Published online:

20 August 2020

Print publication:

03 September 2020

, pp

212-254

Summary

Chapter 8 is devoted to the positive goal of Kant's reform of the theoretical part of metaphysics, namely, the system of pure reason he intended to elaborate on the basis of the propaedeutic investigation carried out in the Critique of Pure Reason. Drawing on the Architectonic, the Transcendental Dialectic, the Metaphysical Foundations of Natural Science, Kant's lectures on metaphysics, and other texts, the chapter maintains that the Critique paves the way not only for a reformed version of general metaphysics or ontology but also for a reformed version of special metaphysics, namely, rational physics, rational psychology, rational cosmology, and rational theology. The chapter argues that the Critique does not preclude the possibility of a comprehensive account of the purely intellectual determinations of the ideas of reason themselves and, hence, is much less detrimental to former special metaphysics than is generally assumed. Thus, it seeks to bring out the common ground of Kant's projected system and the metaphysical systems put forward by Wolff and Baumgarten. The chapter concludes by arguing that Kant's later accounts of his intentions accord with his original plan.
---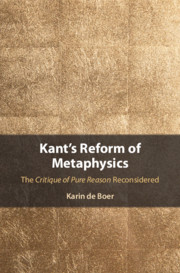 The Critique of Pure Reason Reconsidered
Published online:

20 August 2020

Print publication:

03 September 2020

Scholarly debates on the Critique of Pure Reason have largely been shaped by epistemological questions. Challenging this prevailing trend, Kant's Reform of Metaphysics is the first book-length study to interpret Kant's Critique in view of his efforts to turn Christian Wolff's highly influential metaphysics into a science. Karin de Boer situates Kant's pivotal work in the context of eighteenth-century German philosophy, traces the development of Kant's conception of critique, and offers fresh and in-depth analyses of key parts of the Critique of Pure Reason, including the Transcendental Deduction, the Schematism Chapter, the Appendix to the Transcendental Analytic, and the Architectonic. The book not only brings out the coherence of Kant's project, but also reconstructs the outline of the 'system of pure reason' for which the Critique was to pave the way, but that never saw the light.
---