Book: Chinese Diasporas
Published online:

31 January 2020

Print publication:

20 February 2020

, pp

196-227

Summary

Chapter 6 surveys new waves of internal and external migration in the post-Mao era, arguing that they are linked phenomena. The chapter demonstrates that the larger phenomenon, the "floating population" of rural migrants in the cities of eastern, coastal China, is related to the phenomenon of "new migrants" targeting destinations beyond the borders of China. The chapter describes two important examples. The first is the simultaneous migration from some specific communities in the Wenzhou area of southern Zhejiang to Beijing and of migration from other specific communities in Wenzhou to such places as Prato, Italy. The second example consists of rural communities near the city of Wenzhou that both receive "internal" migrants from western China and send "external" migrants to such places as New York City. The chapter demonstrates the continued importance of kinship and native-place networks for the laborers and small entrepreneurs who made up the "floating population" and the "new migrants." The chapter explores the stances and roles of various levels of government within China toward migrants. It concludes with a survey of family practices, including the reemergence of split families and the newer trends of family migration.
---
Book: Chinese Diasporas
Published online:

31 January 2020

Print publication:

20 February 2020

, pp

20-51

Summary

Chapter 1 surveys Chinese migration during the early modern period, here defined as 1500 to 1740. The chapter introduces the concept of a trade diaspora and describes some important examples, Huizhou, Shanxi, and Hokkien. It introduces diasporic institutions important during the early modern era: lineages, native-place associations, temples, and various types of intermediaries. The chapter then describes the ways in which migration was gendered, focusing on male migration, split families, and intermarriage. The chapter ends with an example of one diasporic community, the Huizhou salt merchants who formed the upper tier of the socioeconomic elite in the city of Yangzhou.
---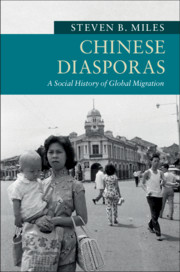 A Social History of Global Migration
Published online:

31 January 2020

Print publication:

20 February 2020

Chinese Diasporas provides a concise and compelling new history of internal and external Chinese migration from the sixteenth century to the present day. Steven B. Miles places Chinese migrants and their families at the center of his narrative through a series of engaging case studies taking readers from the heart of Ming China to the global property markets of the twenty-first century. The focus on individual migrants and their descendants reveals the ways in which the 'Chinese diaspora' has consisted of distinct paths of migration from specific emigrant communities to targeted destinations both within China and abroad. This is essential reading for those interested in the history of the Chinese diaspora and the overseas Chinese, and for those interested in the role of migration in the making of the modern world.
---