Published online:

23 March 2020

Print publication:

28 May 2020

, pp

9-27

Summary

Birth represents a transitional point in time – a static moment that borders a time of complete dependency and the march toward independence. This chapter reviews some basic concepts of vertebrate development and histology. Of particular relevance are tissue changes that reflect differentiation of mineralized tissues: skeletogenesis and odontogenesis, beginning with changes to the primitive connective tissue (mesenchyme). Viewed by microscopy, mesenchyme condenses prior to differentiation into cartilage, bone or tooth germs. Most mesenchymal condensations for the skeleton form during the embryonic period, but they continue to appear during the fetal period or postnatally for some structures (e.g., successional teeth). Most growth of the skeleton occurs during the fetal and postnatal periods. Mineralized connective tissues have different available growth processes. The contributions of appositional growth (new matrix is added to existing matrix), interstitial growth (cell replication and matrix production within existing tissue), and bone modeling (selective osteoclastic and osteoblastic activity) are discussed according to types of bones and skeletal regions.
---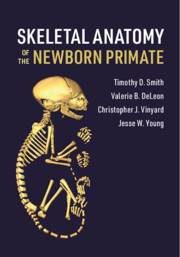 Published online:

23 March 2020

Print publication:

28 May 2020

Although much is known about the anatomy of adult primates, particularly chimpanzees, the same cannot be said for the anatomy of young primates, especially non-hominoid primates such as lemurs and marmosets. This is the first book dedicated to newborn skeletal and dental anatomy and how it varies across primate species, which is important for interpreting adult primate skeletal form, as well as for comprehending primate and human evolution. Structured according to anatomical regions, the book includes hundreds of detailed anatomical illustrations, a color atlas illustrating entire skeletons in representative taxa, and boxes at the end of each chapter providing further detail on key aspects covered in the main text. Whilst the book is primarily a guide to comparative anatomy, it also highlights the links between development and behavior. An indispensable resource for students and researchers in the fields of biological anthropology, anatomy, primatology, growth and development, dental biology, and veterinary medicine.
---
Published online by Cambridge University Press:

15 April 2014

, pp. 467-473

Print publication:

June 2015

Primary mesenchyme cells (PMCs) are skeletogenenic cells that produce a calcareous endoskeleton in developing sea urchin larvae. The PMCs fuse to form a cavity in which spicule matrix proteins and calcium are secreted forming the mineralized spicule. In this study, living sea urchin embryos were stained with fluorescently conjugated wheat germ agglutinin, a lectin that preferentially binds to PMCs, and the redistribution of this fluorescent tag was examined during sea urchin development. Initially, fluorescence was associated primarily with the surface of PMCs. Subsequently, the fluorescent label redistributed to intracellular vesicles in the PMCs. As the larval skeleton developed, intracellular granular staining diminished and fluorescence appeared in the spicules. Spicules that were cleaned to remove membranous material associated with the surface exhibited bright fluorescence, which indicated that fluorescently labelled lectin had been incorporated into the spicule matrix. The results provide evidence for a cellular pathway in which material is taken up at the cell surface, sequestered in intracellular vesicles and then incorporated into the developing spicule.
---