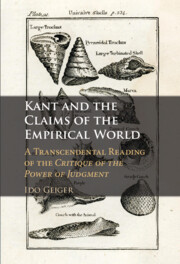 A Transcendental Reading of the Critique of the Power of Judgment
Published online:

30 April 2022

Print publication:

28 April 2022

Kant announces that the Critique of the Power of Judgment will bring his entire critical enterprise to an end. But it is by no means agreed upon that it in fact does so and, if it does, how. In this book, Ido Geiger argues that a principal concern of the third Critique is completing the account of the transcendental conditions of empirical experience and knowledge. This includes both Kant's analysis of natural beauty and his discussion of teleological judgments of organisms and of nature generally. Geiger's original reading of  the third Critique shows that it forms a unified whole - and that it does in fact deliver the final part of Kant's transcendental undertaking. His book will be valuable to all who are interested in Kant's theory of the aesthetic and conceptual purposiveness of nature.
---
Journal: Kantian Review / Volume 26 / Issue 4 / December 2021
Published online by Cambridge University Press:

15 December 2021

, pp. 531-547

Print publication:

December 2021

Article

You have access

Open access

This paper calls into question the view typically attributed to Kant that aesthetic judgements are particularist, resisting all conceptual determination. Instead, it claims that Kant conceives of aesthetic judgements, particularly of art, as playing an important role in the revision of concepts: one sense in which aesthetic judgements, as Kant defines them, 'find a universal' for a given particular. To understand the relation between artistic judgements and concepts requires that we consider what I call Kant's diachronic account of aesthetic ideas, or how such judgements unfold in the course of communication and reflection. My reading draws Kant much closer to debates in the philosophy of art on the semantic dimension of artworks. Here, illuminating the way in which aesthetic judgements about art can play a role in conceptual revision allows us to make sense of the way in which modern artworks contest concepts rather than merely presenting or expressing them.
---
Book: Kant's Critique of Taste
Published online:

07 April 2021

Print publication:

15 April 2021

, pp

34-69

Summary

The Critique of Judgment is concerned with "judgment" as a power of the mind that is expressed in particular acts of judging. This is the sense we draw upon when we say of someone that they have good judgment, or when we put our trust in someone's judgment. I consider Kant's regress argument concerning judgment in the Analytic of the Principles of the first Critique. Kant has been read as concluding that if cognition is to be possible it must, on pain of infinite regress, bottom out in some non-rule-governed, "immediate" act or entity. I argue that this interpretation misconstrues the moral of Kant's argument, as it does that of the rule-following passages in Wittgenstein's Philosophical Investigations with which it is sometimes aligned. The point of Kant's argument is that judgment must be exercised: this is its condition. Kant shares with Wittgenstein (properly read) an awareness of the desire that we may have to evade the exercise of judgment and the revelations of the self that it entails. Reflective judgment, as introduced in the third Critique, is a further development of the notion of judgment as necessarily exercised and reflective of a particular mind.
---