from Part III - The Space-Time Perspective
Published online:

31 March 2022

Print publication:

07 April 2022

, pp

87-98

Summary

We start carrying out the programme of covariant quantisation, focussing on the photon and tachyon state of the open string. The photon is used to explain the relation between the world-sheet and space-time perspective by matching properties of the photon state to those of the Maxwell field. The tachyon gives us the opportunity to talk about tachyon condensation, string field theory, and the search for the true ground state of string theory.
---
Book: Introducing Photonics
Published online:

21 July 2020

Print publication:

30 July 2020

, pp

1-10

Summary

Chapter 1: introduces the subject – starting by endeavouring to define what the term 'photonics' might mean and following this with a very brief exploration of the basic concepts. There is then a brief discussion about applications which impact upon our everyday lives. An outline of the book and the reasons for its being presented in this particular format follows. Finally, there is a very brief mention of the background in other complementary disciplines which complement photonics.
---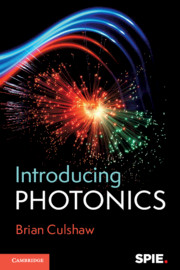 Published online:

21 July 2020

Print publication:

30 July 2020

The essential guide for anyone wanting a quick introduction to the fundamental ideas underlying photonics. The author uses his forty years of experience in photonics research and teaching to provide intuitive explanations of key concepts, and demonstrates how these relate to the operation of photonic devices and systems. Readers will gain insight into the nature of light and the ways in which it interacts with materials and structures, and learn how these basic ideas are applied in areas such as optical systems, 3D imaging and astronomy. Carefully designed worked examples and end-of-chapter problems enable students to check their understanding, with full solutions available online. Mathematical treatments are kept as simple as possible, allowing readers to grasp even the most complex of concepts. Clear, concise and accessible, this is the perfect guide for undergraduate students taking a first course in photonics, and anyone in academia or industry wanting to review the fundamentals.
---