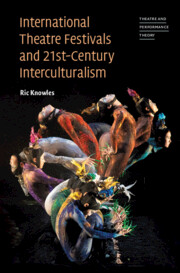 Published online:

11 January 2022

Print publication:

16 December 2021

Ric Knowles' study is a politically urgent, erudite intervention into the ecology of theatre and performance festivals in an international context. Since the 1990s there has been an exponential increase in the number and type of festivals taking place around the world. Events that used merely to be events are now 'festivalized': structured, marketed, and promoted in ways that stress urban centres as tourist destinations and "creative cities" as targets of corporate enterprise. Ric Knowles examines the structure, content, and impact of international festivals that draw upon and represent multiple cultures and the roles they play in one of the most urgent processes of our times: intercultural negotiation and exchange. Covering a vast geographical sweep and exploring festival models both new and ancient, the work sets compelling new standards of practice for post-pandemic festivals.
---
Published online:

22 May 2020

Print publication:

11 June 2020

, pp

1-12

Summary

This chapter introduces the proliferation of festivals and 'festivalization' internationally in the twenty-first century, offers definitions and exclusions, and outlines a typology of theatre and performance festivals that now exist globally (elite festivals, alternative and fringe festivals, 'second-wave' festivals, and festivals that focus on a single culture or region). It briefly summarizes the book's chapters on theorizing festivals, research methodology, festival cities, Indigenous festivals, European festivals, the Edinburgh Festival Fringe, Under the Radar, Australian festivals, Arab festivals, the Kampala International Theatre Festival, the National Arts Festival in Grahamstown, Asian Festivals, francophone festivals, festivals in Latin America, and the RUTAS festival.
---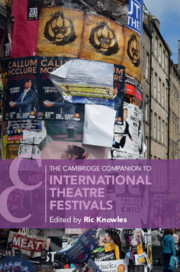 Published online:

22 May 2020

Print publication:

11 June 2020

The global rise of festival culture and experience has taken over that which used to merely be events. The Cambridge Companion to International Theatre Festivals provides an up-to-date, contextualized account of the worldwide reach and impact of the 'festivalization' of culture. It introduces new methodologies for the study of the global network of theatre production using digital humanities, raises questions about how alternative origin stories might impact the study of festivals, investigates the festivalized production of space in the world's 'Festival Cities', and re-examines the social role and cultural work of twenty-first-century theatre, performance, and multi-arts festivals. With chapters on festivals in Africa, Asia, Australia, the Arab world, the francophone world, Europe, North America, and Latin America it analyses festivals as sites of intercultural negotiation and exchange.
---