Published online:

11 January 2022

Print publication:

16 December 2021

, pp

27-71

Summary

Chapter 1 begins with a new (and ancient) festival creation story grounded in pre-contact Indigenous ceremonial and performance practices that may be considered to be festivals, such as the Midē'wiwin 'White Earth Scroll', the potlatch (Tloo-qua-nah) , and the corroboree It proceeds to survey and analyse the subsequent representation of Indigeneity in western festivals, fairs, and mega-events (such as Olympic ceremonies), theatre and arts festivals run by non-Indigenous peoples, destination festivals with and without Indigenous leadership or participation, Indigenous cultural festivals in Australia and the Pacific, and twenty-first-century Indigenous theatre festivals. The chapter's focus is primarily on festivals in Aotearoa, Australia, the Pacific, and North America, and it pays particular attention to the contributions of key productions and trans-Indigenous collaborations to contemporary festival cultures, Indigenous and non-Indigenous. It ends by proposing that Indigenous festivals might productively be considered to provide an alternative creation story and festival paradigm to the competitive model of ancient Greece.
---
from Part I - Contexts and Methods
Published online:

22 May 2020

Print publication:

11 June 2020

, pp

70-84

Summary

From long before recorded Western history to the present, the Indigenous peoples of the world have engaged in ceremonies and communal performance activities – the White Earth scroll, the corroboree, the potlach – that could not without diminishment be called 'theatre', but are certainly performative and might, from a Western perspective, be called festivals. This chapter asks what it might mean for scholars to consider festivals to have begun, not in the competitive framework of the Festival of Dionysus in ancient Greece, but in the relational context of Indigenous 'internation' exchange. It traces the history of trans-Indigenous festivals, interrupted by colonization, to the present day, visiting Indigenous cultural festivals in Australia and the Pacific, and ending with accounts of Native Earth Performing Arts' Weesageechak Begins to Dance (Toronto), Full Circle Performing Arts' Talking Stick Festival (Toronto), and Kaha:wi Dance Theatre's Living Ritual Festival (Toronto).
---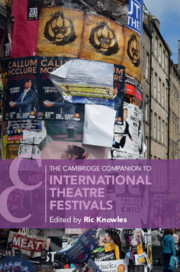 Published online:

22 May 2020

Print publication:

11 June 2020

The global rise of festival culture and experience has taken over that which used to merely be events. The Cambridge Companion to International Theatre Festivals provides an up-to-date, contextualized account of the worldwide reach and impact of the 'festivalization' of culture. It introduces new methodologies for the study of the global network of theatre production using digital humanities, raises questions about how alternative origin stories might impact the study of festivals, investigates the festivalized production of space in the world's 'Festival Cities', and re-examines the social role and cultural work of twenty-first-century theatre, performance, and multi-arts festivals. With chapters on festivals in Africa, Asia, Australia, the Arab world, the francophone world, Europe, North America, and Latin America it analyses festivals as sites of intercultural negotiation and exchange.
---