Published online:

18 June 2021

Print publication:

05 August 2021

, pp

285-320

Summary

This concluding chapter argues that the interplay between international law and empiricist history has served to offer a new grounding for formalism in an extremely fraught political context. Historical work is increasingly relied upon as a source of substantive claims about what law really means and of scientific methods for studying the past. Lawyers rely on the scientific tone and resulting truth effects of accounts presented by professional historians to intervene in contemporary debates by using the claims made in those narratives about international law's 'true' origins or 'real' history. Appeals to contextualist histories allow lawyers to present their arguments as being grounded on evidence and to characterise the other side in a legal debate as ideologically motivated, presentist, or engaged in myth-making rather than proper scholarship. The chapter argues that international lawyers cannot look to historians (or anyone else for that matter) to save the day with impartial and verifiable evidence-based interpretations of what international law really is, means, or stands for. What then is to be done? The chapter concludes by exploring why and how we might study the international legal past even knowing that writing histories of international law is inevitably a partisan act.
---
Published online:

18 June 2021

Print publication:

05 August 2021

, pp

1-17

Summary

International lawyers are very familiar with the claim that international law has taken a turn to history since the tumultuous decade of the 1990s. As debates over the interpretation of past texts, events, and practices have intensified in the context of a rapidly changing field of international law, history has been presented as offering a silver bullet. While international lawyers are criticised for instrumentalising or mythologising the past in ways that are biased, partisan, and political, professional historical methods are presented as offering an objective, impartial, and evidence-based alternative. This chapter outlines the cross-disciplinary hermeneutic of suspicion that has structured the resulting debates over how the history of international law is understood. It sets out the assumptions underpinning that debate and explores its consequences for the way lawyers and historians represent the nature, functions, potential, role, and limits of international law.
---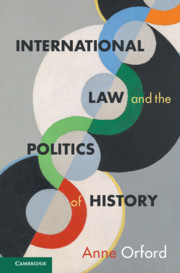 Published online:

18 June 2021

Print publication:

05 August 2021

As the future of international law has become a growing site of struggle within and between powerful states, debates over the history of international law have become increasingly heated. International Law and the Politics of History explores the ideological, political, and material stakes of apparently technical disputes over how the legal past should be studied and understood. Drawing on a deep knowledge of the history, theory, and practice of international law, Anne Orford argues that there can be no impartial accounts of international law's past and its relation to empire and capitalism. Rather than looking to history in a doomed attempt to find a new ground for formalist interpretations of what past legal texts really mean or what international regimes are really for, she urges lawyers and historians to embrace the creative role they play in making rather than finding the meaning of international law.
---