from Part II - Institutional Pressures and Contested Legitimacy
Edited by ,

Trinity College Dublin

,

,

University of Durham

,

,

London School of Economics and Political Science

Published online:

17 August 2021

Print publication:

26 August 2021

, pp

292-312

Summary

The United Kingdom's decision to invoke Article 50 of the Treaty on European Union triggered serious ripples across its constitutional order, including repeat clashes between Parliament and the Government. This friction reached a crescendo in 2018, following the former's unprecedented decision to hold the latter in contempt for refusing to obey its request to publish the Attorney General's full legal advice on the Government's draft Withdrawal Agreement with the EU. One of the many interesting constitutional issues thrown into sharp focus by this event, was the important relationship between executive power and the legal advice-giving role of executive lawyers.

Using the UK and Ireland as illustrative examples, this essay considers how the work of executive lawyers interacts with executive authority. I argue that their legal advice can be important in supporting the executive's political narratives about the basis for controversial policy action or inaction and is deployed by the executive to enhance its perceived legal credibility and political legitimacy. Its relationship to exercises of public power deserves greater positive and normative scrutiny, both in each system and from a comparative public law perspective more broadly.
---
from Part I - Introduction
Book: Reconstructing Rights
Published online:

09 July 2019

Print publication:

18 July 2019

, pp

3-28

Summary

I use a puzzling episode of judicial interpretation from South Africa to motivate the theoretical question about why judges sometimes alter their commitments to some legal interpretations but not others. I examine existing scholarship, which tends to portray judges as behaving in four distinct ways when engaged in legal interpretation: as guardians; as principled interpreters; as regime partners; or as strategic interpretors or deliberators. I argue that each of these portrayals falls short in explaining judges' shifting commitments to legal interpretation. Instead, I argue that judges are best understood as behaving as deliberative partners by combining key theoretical aspects of existing work into a novel theoretical position. I then outline the unique observable implications of each position and propose a fair test that examines judicial behavior in response to political parties' shifting stances on equality rights during key moments in Indian, South African, and American history.
---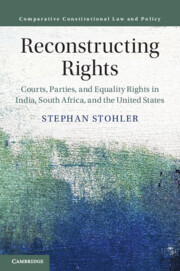 Courts, Parties, and Equality Rights in India, South Africa, and the United States
Published online:

09 July 2019

Print publication:

18 July 2019

Judges often behave in surprising ways when they re-interpret laws and constitutions. Contrary to existing expectations, judges regularly abandon their own established interpretations in favor of new understandings. In Reconstructing Rights, Stephan Stohler offers a new theory of judicial behavior which demonstrates that judges do not act alone. Instead, Stohler shows that judges work in a deliberative fashion with aligned partisans in the elected branches to articulate evolving interpretations of major statutes and constitutions. Reconstructing Rights draws on legislative debates, legal briefs, and hundreds of judicial opinions issued from high courts in India, South Africa, and the United States in the area of discrimination and affirmative action. These materials demonstrate judges' willingness to provide interpretative leadership. But they also demonstrate how judges relinquish their leadership roles when their aligned counterparts disagree. This pattern of behavior indicates that judges do not exercise exclusive authority over constitutional interpretation. Rather, that task is subject to greater democratic influence than is often acknowledged.
---