Journal: Religious Studies / Volume 58 / Issue 4 / December 2022
Published online by Cambridge University Press:

07 September 2021

, pp. 745-758

Print publication:

December 2022

One classical version of cosmological argument, defended famously by Thomas Aquinas and Duns Scotus, deduces the existence of a First Cause from the existence of a particular sort of causal series: one that is 'essentially ordered'. This argument has received renewed defence in recent work by Feser (2013), Cohoe (2013), and Kerr (2015). I agree with these philosophers that the argument is sound. I believe, however, that the standard defence given of the ECA in these philosophers can be complemented by a formulation that appeals to the powers theory of possibility. This approach to possibility has been defended in recent years by, for example, Pruss (2002), Jacobs (2010), and Vetter (2015). In this article, I show how this modal theory allows us to defend the ECA in a way that is dialectically advantageous as well as clarifying.
---
Book: Taking God Seriously
Published online:

29 January 2021

Print publication:

18 February 2021

, pp

59-95

Summary

The authors run through the major arguments for the existence of God: Anselm's ontological argument (and also Descartes's version), arguing that the very notion of God a priori proves hs existence; Aquinas's cosmological (or causal) argument, that God is needed to stop an infinite regression of causes from the present to the past; and the teleological argument or the argument from design, that the design-like natural objects of this world demand a designer. Then they raise the standard objections: Gaunilo's criticism that the ontological argument proves the existence of perfect islands, which is ridiculous, and Kant's objection that you cannot infer matters of fact by a priori reasoning; Dawkins's criticism that the cosmological argument raises the unanswered question of what causes God; and Hume's criticism of the design argument, and Darwin's subsequent demonstration that natural selection can explain final causes naturalistically, and so there is no need to invoke a Designer God.
---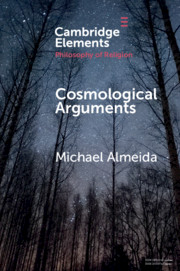 Published online:

25 August 2018

Print publication:

23 August 2018

The Element discusses the structure, content, and evaluation of cosmological arguments. The introductory section investigates features essential to cosmological arguments. Traditionally, cosmological arguments are distinguished by their appeal to change, causation, contingency or objective becoming in the world. But none of these is in fact essential to the formulation of cosmological arguments. Sections 1-3 present a critical discussion of traditional Thomistic, Kalam, and Leibnizian cosmological arguments, noting various advantages and disadvantages of these approaches. Section 4 offers an entirely new approach to the cosmological argument - the approach of theistic modal realism. The proper explananda of cosmological arguments on this approach is not change, causation, contingency or objective becoming in the world. The proper explananda is the totality of metaphysical reality - all actualia and all possibilia. The result is the most compelling and least objectionable version of the cosmological argument.
---