Book: The Power of Necessity
Published online:

22 December 2022

Print publication:

05 January 2023

, pp

180-237

Summary

Focusing on the various rounds of debates between the 1620s and 1640s on whether or how to seek peace or truce in the war with the Dutch Republic, this explores how agents and counsellors from different parts of the Spanish monarchy navigated the conflict between ideology and necessity-driven pragmatism in contexts of concrete decision-making. Directed at preserving and re-establishing dominion over the various realms of the monarchy, reason of state was at the heart of this weighing of principle and pragmatism. Agents were at the centre of a constant cycle of collecting and assessing information, projecting likely future courses and searching for the utmost expedience within the boundaries of royal conscience and obligations. What solutions were conceivable when attempts to preserve dominion over the Low Countries ran contrary to the demands of the Catholic faith and the preservation of the rest of the monarchy? Could special circumstances allow for special measures or concessions that might deviate from the princely obligations towards justice and the Faith? The chapter shows that as each decade of the war added to its own history, pragmatic arguments and solutions were often inspired by experience, together with a notion of extenuating necessity.
---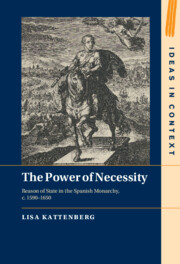 Reason of State in the Spanish Monarchy, c. 1590–1650
Published online:

22 December 2022

Print publication:

05 January 2023

Exploring reason of state in a global monarchy, The Power of Necessity examines how thinkers and agents in the Spanish monarchy navigated the tension between political pragmatism and moral-religious principle. This tension lies at the very heart of Counter-Reformation reason of state. Nowhere was the need for pragmatic state management greater than in the overstretched Spanish Empire of the seventeenth century. However, pragmatic politics were problematic for a Catholic monarchy steeped in ideals of justice and divine justifications of power and kingship. Presenting a broad cast of characters from across Europe, and uniting published sources with a wide range of archival material, Lisa Kattenberg shows how non-canonical thinkers and agents confronted the political-moral dilemmas of their age by creatively employing the legitimizing power of necessity. Pioneering new ways of bridging the persistent gap between theory and practice in the history of political thought, The Power of Necessity casts fresh light on the struggle to preserve the monarchy in a modernizing world.
---