from Part III - The Disgregation of the Mainstream
Book: The Age of Fragmentation
Published online:

25 November 2019

Print publication:

05 December 2019

, pp

177-217

Summary

In the framework of a critical illustration of the contemporary history of economics, this chapter illustrates the various streams of neo-liberalism, from Ordoliberalism to Mises's new Austrian school and Hicks's Austrian capital theory, from Friedman and the Chicago school to rational expectations and supply-side economics, from the public choice school to political economics, from the Mount Pélerin Society to the Washington consensus and the idea of expansionary austerity. Step by step, the feeble theoretical and conceptual foundations of this set of theories are critically discussed.
---
---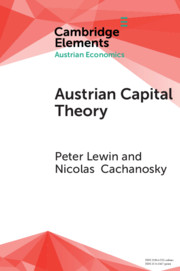 A Modern Survey of the Essentials
Published online:

13 January 2019

Print publication:

10 January 2019

This Element presents a new framework for Austrian capital theory, starting from the notion that capital is value. Capital is the value attributed by the valuer at any moment in time to the combination of production-goods and labor available for production. Capital is the result obtained by calculating the current value of a business-unit or business-project that employs resources over time. It is the result of a (subjective) entrepreneurial calculation process that relates the flow of consumptions goods to the value of the productive resources that will produce those consumptions goods. The entrepreneur is a ubiquitous calculating presence. In a review of the development of Austrian capital theory, by Carl Menger, Eugen von Böhm-Bawerk, Ludwig von Mises, Friedrich Hayek, Ludwig Lachmann as well as recent contributions, the Element incorporates the seminal contributions into the new framework in order to provide a more accessible perspective on Austrian capital theory.
---