Published online:

08 November 2019

Print publication:

05 December 2019

, pp

224-238

Summary

Argues that Trump did not transcend the Cold War or the approaches of his post–Cold War predecessors. While stylistically very different, the substance of Trump's foreign policy was more similar to than different from that of Bush Jr. and Obama. Examines his trade war with China and the consistency of approach that underpinned it. Concludes by arguing why and how the US remained dominant after the Cold War, and the enduring advantages it enjoys over it competitors like China.
---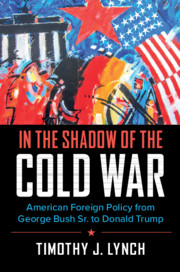 American Foreign Policy from George Bush Sr. to Donald Trump
Published online:

08 November 2019

Print publication:

05 December 2019

This book offers a bold re-interpretation of the prevailing narrative that US foreign policy after the Cold War was a failure. In chapters that retell and re-argue the key episodes of the post-Cold War years, Lynch argues that the Cold War cast a shadow on the presidents that came after it and that success came more from adapting to that shadow than in attempts to escape it. When strategic lessons of the Cold War were applied, presidents fared better; when they were forgotten, they fared worse. This book tells the story not of a revolution in American foreign policy but of its essentially continuous character from one era to the next. While there were many setbacks between the fall of Soviet communism and the opening years of the Trump administration, from Rwanda to 9/11 and Iraq to Syria, Lynch demonstrates that the US remained the world's dominant power.
---