Published online:

16 December 2019

Print publication:

02 January 2020

, pp

1-21

Summary

The early Virginia School of Economics builds upon the work of the British classical economists as extended by Knight at the University of Chicago. In opposition to the nascent economic orthodoxy's emphasis on efficiency, the Virginia School emphasized economic activity and policy as processes generated by discussion. One continuing controversy involves the status of group goals. Virginia's Vining defended the NBER against Koopmans' criticism as atheoretic and thus inefficient. For Vining, the NBER attempted to discover hypotheses, an activity for which efficiency is undefined. Buchanan used the Knightian principle of government by discussion to argue that Arrow's demonstration of an inefficient democracy assumed away the possibility of discovering one's goals through discussion. Government by discussion has an unappreciated role in Buchanan's development of Wicksell's unanimity criterion into the view of politics as exchange. Who participates in the discussion? Only people who actually exist. That privileges the status quo and reduces the economist's role to offering advice to fellow citizens as equals.
---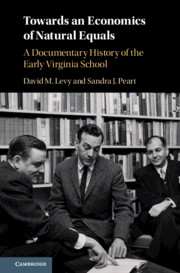 A Documentary History of the Early Virginia School
Published online:

16 December 2019

Print publication:

02 January 2020

The Virginia School's economics of natural equals makes consent critical for policy. Democracy is understood as government by discussion, not majority rule. The claim of efficiency unsupported by consent, as common in orthodox economics, appeals to social hierarchy. Politics becomes an act of exchange among equals where the economist is only entitled to offer advice to citizens, not to dictators. The foundation of natural equality and consent explains the common themes of James Buchanan and John Rawls as well as Ronald Coase and the Fabian socialists. What orthodox economics treats as efficient racial discrimination violates the fair chance entitlement to which people consent in a market economy. The importance of replication stressed by Gordon Tullock, developing themes from Karl Popper, is another expression of natural equality since the foresight of replication induces care into research. The publication of previously unpublished correspondence and documentation allows the reader to judge recent controversy.
---