from Orientations
Book: Global 1979
Published online:

01 July 2021

Print publication:

15 July 2021

, pp

36-56

Summary

This chapter discusses how the volume charts the 1979 Iranian Revolution by examining the complex interplay of space and time that made the revolution possible and conceptions of the global contested. What unites the multidisciplinary collection of authors is that they all treat the global, national, regional, or local as neither natural, preexisting, nor opposed to one another; instead, they assume that these scales are coproduced in specific historical contexts. Globalizing the Iranian Revolution in this manner is an enterprise in recovering the histories of the revolution non-teleologically and to think of global history as multidirectional and not emanating from a single epicenter or from "the global" to "the local." Specifically, Global 1979 presents five discrete propositions: (1) geographic and archival margins are powerful means to decenter political struggles; (2) global guerrilla tactics politicized space before and after the revolution; (3) tracing genealogies allows us to think simultaneously, rather than linearly about causation; (4) the circulation of expertise left divisive imprints on society; (5) part of what gave the revolution meaning was imagining the world. Collectively and individually, the chapters disrupt familiar stories and interrupt hackneyed historical sequences by making us attuned to configurations of space and time obfuscated by a penchant to explain outcomes, assign responsibility, and second-guess decisions.
---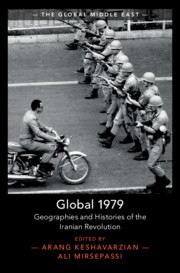 Geographies and Histories of the Iranian Revolution
Published online:

01 July 2021

Print publication:

15 July 2021

The Iranian revolution of 1979 not only had an impact on regional and international affairs, but was made possible by the world and time in which it unfolded. This multi-disciplinary volume presents this revolution within its transnational and global contexts. Moving deftly from the personal to the global and from the provincial to the national, it draws attention to the multiplicity of spaces of the revolution such as streets, schools, prisons, personal lives, and histories such as the Cold War and Global 1960s and 70s. With a broad range of approaches, Global 1979 conceives of the Iranian Revolution not as exceptional or anachronistic, but as an uprising constituted by multiple, interwoven geographies and histories, which disrupt static and bounded notions of the local, national, regional, and global.
---