Published online:

24 February 2020

Print publication:

05 March 2020

, pp

96-112

Summary

This chapter compares the portrayal of the critique as an inner tribunal to the traditional image of moral conscience as an inner tribunal. The main argument is that moral conscience is a model of the way in which a reflexive investigation can be both internal and objective. In support of this argument, Møller considers Kant's claim made in the 1790s that an erring conscience is an absurdity. She argues that this claim should be understood in light of Kant's account of moral conscience as a second-order capacity, which is not merely judicial but also legislative and executive. This analysis shows that Kant's mature account of moral conscience is not a departure from but rather a development of the inner tribunal image. The parallel between the two inner tribunals shows that an internal investigation can reach a valid outcome if this outcome depends on the valid use of impersonal cognitive faculties.
---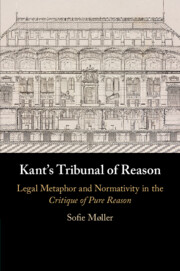 Legal Metaphor and Normativity in the Critique of Pure Reason
Published online:

24 February 2020

Print publication:

05 March 2020

Kant's Critique of Pure Reason, his main work of theoretical philosophy, frequently uses metaphors from law. In this first book-length study in English of Kant's legal metaphors and their role in the first Critique, Sofie Møller shows that they are central to Kant's account of reason. Through an analysis of the legal metaphors in their entirety, she demonstrates that Kant conceives of reason as having a structure mirroring that of a legal system in a natural right framework. Her study shows that Kant's aim is to make cognisers become similar to authorized judges within such a system, by proving the legitimacy of the laws and the conditions under which valid judgments can be pronounced. These elements consolidate her conclusion that reason's systematicity is legal systematicity.
---