from IV - Freedom and Skepticism
Edited and translated by ,

Ludwig-Maximilians-Universität Munchen

,

,

Martin Luther-Universität Halle-Wittenberg, Germany

Published online:

24 March 2022

Print publication:

31 March 2022

, pp

213-226

Summary

Salomon Maimon argues in "The Moral Skeptic" (1800) that Kant's conception of freedom as the capacity of the power of choice to be determined by reason independently of sensible determinations is an empty concept, or, as Maimon puts it, a "term without a concept." He holds that a determinate capacity is inconceivable without laws through which its efficacy is invariably determined. Although we might conceive of laws of nature as the determining ground of immoral action and the moral law as the determining ground of moral action, there is no law to determine which of these two opposed grounds is to become the determining ground of action in a given case. Thus, the actual determination of the power of choice would be left to chance, which is absurd since chance indicates the lack of a determining ground. Maimon's critique is embedded in a broader treatment of the difference between the moral skeptic and the moral dogmatist in view of the Critical philosophy.
---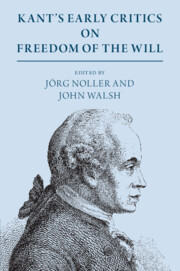 Published online:

24 March 2022

Print publication:

31 March 2022

This book offers translations of early critical reactions to Kant's account of free will. Spanning the years 1784-1800, the translations make available, for the first time in English, works by little-known thinkers including Pistorius, Ulrich, Heydenreich, Creuzer and others, as well as familiar figures including Reinhold, Fichte and Schelling. Together they are a testimony to the intense debates surrounding the reception of Kant's account of free will in the 1780s and 1790s, and throw into relief the controversies concerning the coherence of Kant's concept of transcendental freedom, the possibility of reconciling freedom with determinism, the relation between free will and moral imputation, and other arguments central to Kant's view. The volume also includes a helpful introduction, a glossary of key terms and biographical details of the critics, and will provide a valuable foundation for further research on free will in post-Kantian philosophy.
---
Published online:

16 March 2021

Print publication:

18 March 2021

, pp

45-60

Summary

A cursory account of Maimon's philosophical development, gleaned from his Autobiography, suggests a gradual emancipation from early Jewish influences toward a life-changing encounter with the thought of Immanuel Kant. However true in outline, this account does a disservice to the lasting influence of Maimonides upon all precincts of Maimon's thought, and especially on his practical philosophy. In Maimon's moral writings of the 1790's, one finds a Maimonidean-inspired rationalism leading him to reject the Kantian "primacy of the practical" in favor of the superiority of intellectual perfection to moral perfection, a conclusion also in keeping with Spinoza, another important influence upon Maimon's intellectual development. This rejection, in turn, leads Maimon to amend the theoretical foundations of Kantian practical philosophy by reconsidering the foundations of that philosophy; in Maimon's words, "to show, in some deviation from Kant, that the morally good is good only because it is true." Thus, while there is no doubt about Kant's profound affect upon Maimon's philosophical development, one cannot understand Maimon's departures from Kant apart from the influence of Maimonides, which comes to light with special clarity in Maimon's moral writings.
---