Book: Yeats on Theatre
Published online:

09 July 2021

Print publication:

29 July 2021

, pp

1-14

Summary

When W. B. Yeats won the Nobel Prize for Literature in 1923, he singled out his contribution to theatre as one of his main achievements. The critical consensus since his death has not shared this view, and his theatrical work has largely been overlooked. This book contends that Yeats is not only an important modernist playwright, but also a thinker about theatre whose originality can be compared to that of Brecht or Artaud.
---
from Part II - After Parnell
Book: Parnell and his Times
Published online:

03 December 2020

Print publication:

17 December 2020

, pp

185-198

Summary

Some critics polarize Joyce and Yeats by invoking the Irish Literary Revival. This practice, which can seem unduly based on sectarian divisions, the politics of post-1916 Ireland, and the retrospective formulation of 'Modernism', fails to address adequately Yeats's and Joyce's common origins in the Aesthetic and Symbolist ethos of the 1890s, their common dedication to 'the religion of art'. Yeats's profound influence on Joyce attaches Joyce to the Revival, as does the struggle between different brands of cultural nationalism as represented by Joyce in Stephen Hero and A Portrait of the Artist as a Young Man. Walter Pater was fundamentally important to the aesthetics of both Yeats and Joyce; the Paterian 'epiphany' as a symbolic structure bridges their poetry and prose; and Charles Stewart Parnell, who can assume qualities of Pater's 'artist-hero', complements Pater in his importance to both: to their dialectics between art and history. The chapter ends with a discussion of some startling thematic overlaps c. 1914 between Yeats's Responsibilities and Joyce's Portrait.
---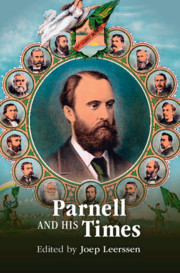 Published online:

03 December 2020

Print publication:

17 December 2020

Marked by names such as W. B. Yeats, James Joyce and Patrick Pearse, the decade 1910–1920 was a period of revolutionary change in Ireland, in literature, politics and public opinion. What fed the creative and reformist urge besides the circumstances of the moment and a vision of the future? The leading experts in Irish history, literature and culture assembled in this volume argue that the shadow of the past was also a driving factor: the traumatic, undigested memory of the defeat and death of the charismatic national leader Charles Stewart Parnell (1846-1891). The authors reassess Parnell's impact on the Ireland of his time, its cultural, religious, political and intellectual life, in order to trace his posthumous influence into the early twentieth century in fields such as political activism, memory culture, history-writing, and literature.
---