Book: Seeing Us in Them
Published online:

11 March 2021

Print publication:

18 March 2021

, pp

40-66

Summary

Chapter 3 introduces an original, multi-item measure of group empathy: the Group Empathy Index (GEI). The GEI modifies the Interpersonal Reactivity Index (IRI), which mainly captures empathy toward close family and friends. The GEI taps empathy for strangers, primarily members of socially distinct groups. The two measures are similar on their face, but they are conceptually and functionally distinct. The chapter also explores the measurement properties of a long and short version of the GEI, employing data from multiple surveys. Both versions of the GEI are reliable and valid indicators of the underlying construct. We also find that the GEI is not reducible to personality dimensions such as authoritarianism or other group-oriented predispositions such as social dominance orientation (SDO), racial resentment, ethnocentrism, linked fate, ideology, and partisanship.
---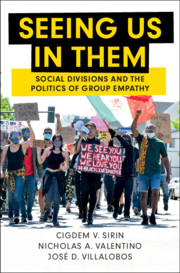 Social Divisions and the Politics of Group Empathy
Published online:

11 March 2021

Print publication:

18 March 2021

What causes some people to stand in solidarity with those from other races, religions, or nationalities, even when that solidarity does not seem to benefit the individual or their group? Seeing Us in Them examines outgroup empathy as a powerful predisposition in politics that pushes individuals to see past social divisions and work together in complex, multicultural societies. It also reveals racial/ethnic intergroup differences in this predisposition, rooted in early patterns of socialization and collective memory. Outgroup empathy explains why African Americans vehemently oppose the border wall and profiling of Arabs, why Latinos are welcoming of Syrian refugees and support humanitarian assistance, why some white Americans march in support of Black Lives Matter through a pandemic, and even why many British citizens oppose Brexit. Outgroup empathy is not naïve; rather it is a rational and necessary force that helps build trust and maintain stable democratic norms of compromise and reciprocity.
---