Published online:

24 April 2020

Print publication:

14 May 2020

, pp

155-185

Summary

Chapter 4 examines how anarchists handled the ramifications of the 1917 Russian Revolution. The revolution shaped the next decade and a half of anarchist agitation in the region as radicals attempted to figure out not only how to engage the new Communist state in Moscow, but also how to attract Marxists with whom anarchists worked and lived side by side. The post-1917 era also forced anarchists to confront the spread of US-backed anti-Communist surveillance. US intelligence agencies and their Caribbean partners tracked down and tried to suppress radicalism by expanding the Red Scare's surveillance and repression into the Caribbean and targeting Caribbean anarchists who, from the heights of officialdom, were now seen as "Bolshevikis."
---
Published online:

24 April 2020

Print publication:

14 May 2020

, pp

186-213

Summary

Chapter 5 reflects on the role of US neocolonialism from the eve of the Great War to the mid-1920s. In 1916, anarchists launched the first general strike against the US-controlled Panama Canal. Several months later, both Panama and Cuba declared war on Germany within hours of President Wilson's war declaration. Cuba developed a military draft law modeled on the US law. Puerto Rico's residents acquired US citizenship in 1917, and thus the island's male population became eligible for the draft. Anarchists throughout the network emerged to challenge this new wave of regional militarism. Around the same time in Puerto Rico, a pro-independence movement began forming. Anarchists debated the meaning of the island's independence from the USA, asking just how "free" and independent could a nation be in the "American Mediterranean"? Finally, anarchists began a campaign to counter the growing US friendship with dictators who ruled so-called "banana republics" for the benefit of US corporations. As such, anarchists continued their long critique of US expansionism in the Caribbean, reflecting their long role as anti-imperialist actors in Latin America.
---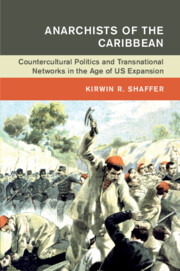 Countercultural Politics and Transnational Networks in the Age of US Expansion
Published online:

24 April 2020

Print publication:

14 May 2020

Anarchists who supported the Cuban War for Independence in the 1890s launched a transnational network linking radical leftists from their revolutionary hub in Havana, Cuba to South Florida, Puerto Rico, Panama, the Panama Canal Zone, and beyond. Over three decades, anarchists migrated around the Caribbean and back and forth to the US, printed fiction and poetry promoting their projects, transferred money and information across political borders for a variety of causes, and attacked (verbally and physically) the expansion of US imperialism in the 'American Mediterranean'. In response, US security officials forged their own transnational anti-anarchist campaigns with officials across the Caribbean. In this sweeping new history, Kirwin R. Shaffer brings together research in anarchist politics, transnational networks, radical journalism and migration studies to illustrate how men and women throughout the Caribbean basin and beyond sought to shape a counter-globalization initiative to challenge the emergence of modern capitalism and US foreign policy whilst rejecting nationalist projects and Marxist state socialism.
---