Book: The Past Can't Heal Us
Published online:

26 June 2020

Print publication:

16 July 2020

, pp

41-65

Summary

This chapter traces the rise of moral remembrance. It deals with the gradual emergence of memorialisation standards and policy-oriented attempts to engage transitional societies in developing and adopting specific normative forms of remembrance. This perspective of 'globalised and standardised cultures of memory' has been heavily embedded and dispersed through an accumulative process – the institutionalisation and ideologisation of human rights. Gaining their power and legitimacy from the world polity level, moral concerns are promoted through a 'facing the past', 'duty to remember' and 'justice for victims' agenda that is supposed to prevent a recurrence of violent conflicts. Following on from the transitional justice paradigm that brought to the fore primarily legal mechanisms to deal with past human rights abuses, since 2000 memorialisation has been seen as central to the processes of democratisation and regional integration. In practice, this has brought a tremendous change in how memorialisation processes are understood, moving the paradigm from a 'duty to remember' to specific, policy-oriented 'memorialisation standards'. Standardisation of memory has further enabled the production of a human rights memorialisation toolkit that has come to be understood as a panacea for post-conflict peacebuilding efforts and the enforcement of human rights around the globe.
---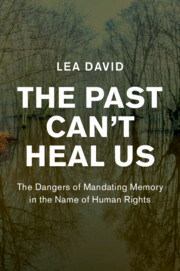 The Dangers of Mandating Memory in the Name of Human Rights
Published online:

26 June 2020

Print publication:

16 July 2020

In this innovative study, Lea David critically investigates the relationship between human rights and memory, suggesting that, instead of understanding human rights in a normative fashion, human rights should be treated as an ideology. Conceptualizing human rights as an ideology gives us useful theoretical and methodological tools to recognize the real impact human rights has on the ground. David traces the rise of the global phenomenon that is the human rights memorialization agenda, termed 'Moral Remembrance', and explores what happens once this agenda becomes implemented. Based on evidence from the Western Balkans and Israel/Palestine, she argues that the human rights memorialization agenda does not lead to a better appreciation of human rights but, contrary to what would be expected, it merely serves to strengthen national sentiments, divisions and animosities along ethnic lines, and leads to the new forms of societal inequalities that are closely connected to different forms of corruptions.
---
Journal: International Review of the Red Cross / Volume 101 / Issue 910 / April 2019
Published online by Cambridge University Press:

07 October 2019

, pp. 59-67

Is remembrance an absolute moral duty or is it better thought of in more ethically constricted pragmatic and empirical terms? This essay argues that both individuals and societies should strive for remembrance where possible, but accept that there are times and places where more forgetting is the only safe choice to make. One may hope that at some point in the future the need to remember will sweep away a prudential decision to forget, but while we are within our moral rights to hope that, in a given case, forgetting itself will outlive its usefulness, conflating our wishes with teleological certainties is an exercise in hubris, not morality. But on no account should memory be thought of as a categorical imperative.
---