Published online:

24 February 2020

Print publication:

05 March 2020

, pp

65-80

Summary

This chapter presents a novel interpretation of the transcendental deduction which uses judicial imputation as a guide for understanding the structure and aim of the argument. Møller argues that the metaphysical deduction should not be read as the answer to the question quid facti, which should instead be found within the transcendental deduction. The parallel with judicial imputation shows that the transcendental deduction is a proof of an authorisation to judge. Judicial imputation presupposes that the judge has both the authority to subsume the case under the law and to apply the effects of the law to the case. This leads to a two-step interpretation of the B edition of the transcendental deduction, which focuses on appearances necessarily falling under the categories and the authorisation of the understanding to apply the categories to appearances.
---
Published online:

24 February 2020

Print publication:

05 March 2020

, pp

52-64

Summary

This chapter is an investigation of the quid juris metaphor that introduces the transcendental deduction. It focuses on the parallel with legal deductions and the importance of this parallel for the transcendental deduction as a philosophical argument. This importance is explored through an analysis of the analogy between concepts and property, the quid juris metaphor and the historical background of deduction writings in Prussia. This analysis leads Møller to reject Henrich's understanding of the transcendental deduction as a loosely structured proof of an origin.
---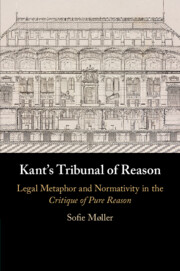 Legal Metaphor and Normativity in the Critique of Pure Reason
Published online:

24 February 2020

Print publication:

05 March 2020

Kant's Critique of Pure Reason, his main work of theoretical philosophy, frequently uses metaphors from law. In this first book-length study in English of Kant's legal metaphors and their role in the first Critique, Sofie Møller shows that they are central to Kant's account of reason. Through an analysis of the legal metaphors in their entirety, she demonstrates that Kant conceives of reason as having a structure mirroring that of a legal system in a natural right framework. Her study shows that Kant's aim is to make cognisers become similar to authorized judges within such a system, by proving the legitimacy of the laws and the conditions under which valid judgments can be pronounced. These elements consolidate her conclusion that reason's systematicity is legal systematicity.
---