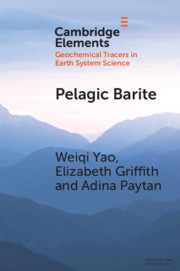 Tracer of Ocean Productivity and a Recorder of Isotopic Compositions of Seawater S, O, Sr, Ca and Ba
Published online:

23 December 2020

Print publication:

28 January 2021

Reconstruction of ocean paleoproductivity and paleochemistry is paramount to understanding global biogeochemical cycles such as the carbon, oxygen and sulfur cycles and the responses of these cycles to changes in climate and tectonics. Paleo-reconstruction involves the application of various tracers that record seawater compositions, which in turn may be used to infer oceanic processes. Several important tracers are incorporated into pelagic barite, an authigenic mineral that forms in the water column. Here we summarize the utility of pelagic barite for the reconstruction of export production and as a recorder of seawater S, O, Sr, Ca and Ba.
---
Journal: Experimental Results / Volume 1 / 2020
Published online by Cambridge University Press:

18 May 2020

, e12

Article

You have access

Open access

One of the commonly used analytical approaches for measuring oxygen isotope ratios δ18O of solids (organic and inorganic) is to pyrolyze the samples to gaseous phases and then send the gas into an isotope ratio mass spectrometer system. Solid samples for δ18O measurements are usually stored in silver cups because of its low reactivity towards oxygen and other oxidants. Samples in silver cups can be dropped directly into the carbon column of the pyrolysis furnace. However, the silver cups can tarnish and then be oxidized over a prolonged storage period. We find that while a small amount of silver oxides does not affect measurements with appreciable sample sizes, it can skew isotope results of small samples. We thus recommend careful storage of samples in silver cups to minimize oxidation, such as under an air-isolated condition, and avoiding prolonged storage for accurate δ18O measurements.
---