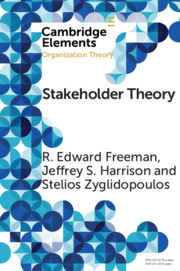 Concepts and Strategies
Published online:

18 August 2018

Print publication:

30 August 2018

The stakeholder perspective is an alternative way of understanding how companies and people create value and trade with each other. Freeman, Harrison and Zyglidopoulos discuss the foundation concepts and implementation of stakeholder management as well as the advantages this approach provides to firms and their managers. They present a number of tools that managers can use to implement stakeholder thinking, better understand stakeholders and create value with and for them. The Element concludes by discussing how managers can create stakeholder oriented control systems and by examining some of the important stakeholder-related issues that are worthy of future scholarly and managerial attention.
---
Journal: Business Ethics Quarterly / Volume 26 / Issue 3 / July 2016
Published online by Cambridge University Press:

05 July 2016

, pp. 379-406

Print publication:

July 2016

In this article, we explore the Corporate Social Performance (CSP) of Developing Country Multinationals (DMNCs). We argue that in competing internationally, DMNCs often face both reputation and legitimacy deficits, which they address by improving their CSP. We develop a series of hypotheses to explain the variation in CSP between DMNCs and domestic-only firms from developing countries and also examine variations in CSP between DMNCs depending on the extent of their multinationality and portfolio of host countries. Our findings support all our hypotheses, which suggest that DMNCs display enhanced levels of CSP compared to their domestic-only counterparts. CSP is also found to be positively related to the DMNCs' degree of multinationality, but with a declining incremental impact, whereas entry into developed markets leads to a greater improvement in DMNCs' CSP than expansion into developing markets. We highlight the implications of our findings for managers and researchers.
---