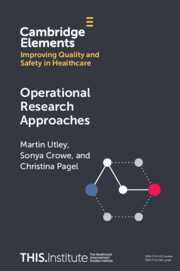 Coming soon

Expected online publication date:

October 2022

Print publication:

30 November 2022

Operational research is a collection of modelling techniques used to structure, analyse, and solve problems related to the design and operation of complex human systems. While many argue that operational research should play a key role in improving healthcare services, staff may be largely unaware of its potential applications. This Element explores operational research's wartime origins and introduce several approaches that operational researchers use to help healthcare organisations: address well-defined decision problems; account for multiple stakeholder perspectives; and describe how system performance may be impacted by changing the configuration or operation of services. The authors draw on examples that illustrate the valuable perspective that operational research brings to improvement initiatives and the challenges of implementing and scaling operational research solutions. They discuss how operational researchers are working to surmount these problems and suggest further research to help operational researchers have greater beneficial impact in healthcare improvement. This title is also available as Open Access on Cambridge Core.
---
Kate L. Brown

,

Sonya Crowe

,

Christina Pagel

,

Catherine Bull

,

Nagarajan Muthialu

,

John Gibbs

,

David Cunningham

,

Martin Utley

,

Victor T. Tsang

,

Rodney Franklin
Journal: Cardiology in the Young / Volume 23 / Issue 4 / August 2013
Published online by Cambridge University Press:

02 October 2012

, pp. 491-498

Print publication:

August 2013

Objective

To categorise records according to primary cardiac diagnosis in the United Kingdom Central Cardiac Audit Database in order to add this information to a risk adjustment model for paediatric cardiac surgery.

Design

Codes from the International Paediatric Congenital Cardiac Code were mapped to recognisable primary cardiac diagnosis groupings, allocated using a hierarchy and less refined diagnosis groups, based on the number of functional ventricles and presence of aortic obstruction.

Setting

A National Clinical Audit Database.

Patients

Children undergoing cardiac interventions: the proportions for each diagnosis scheme are presented for 13,551 first patient surgical episodes since 2004.

Results

In Scheme 1, the most prevalent diagnoses nationally were ventricular septal defect (13%), patent ductus arteriosus (10.4%), and tetralogy of Fallot (9.5%). In Scheme 2, the prevalence of a biventricular heart without aortic obstruction was 64.2% and with aortic obstruction was 14.1%; the prevalence of a functionally univentricular heart without aortic obstruction was 4.3% and with aortic obstruction was 4.7%; the prevalence of unknown (ambiguous) number of ventricles was 8.4%; and the prevalence of acquired heart disease only was 2.2%. Diagnostic groups added to procedural information: of the 17% of all operations classed as "not a specific procedure", 97.1% had a diagnosis identified in Scheme 1 and 97.2% in Scheme 2.

Conclusions

Diagnostic information adds to surgical procedural data when the complexity of case mix is analysed in a national database. These diagnostic categorisation schemes may be used for future investigation of the frequency of conditions and evaluation of long-term outcome over a series of procedures.
---