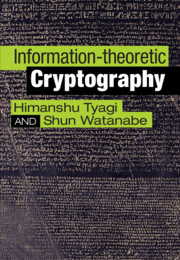 Coming soon

Expected online publication date:

April 2023

Print publication:

30 April 2023

This book offers a mathematical foundation for modern cryptography. It is primarily intended as an introduction for graduate students. Readers should have basic knowledge of probability theory, but familiarity with computational complexity is not required. Starting from Shannon's classic result on secret key cryptography, fundamental topics of cryptography, such as secret key agreement, authentication, secret sharing, and secure computation, are covered. Particular attention is drawn to how correlated randomness can be used to construct cryptographic primitives. To evaluate the efficiency of such constructions, information-theoretic tools, such as smooth min/max entropies and information spectrum, are developed. The broad coverage means the book will also be useful to experts as well as students in cryptography as a reference for information-theoretic concepts and tools.
---
Shun Watanabe

,

Seishi Hagihara

,

Michael J. Miller

,

Masamichi Machida

,

Kosei Komatsu

,

Shuhei Nishida

,

Katsumi Tsukamoto
Journal: Journal of the Marine Biological Association of the United Kingdom / Volume 96 / Issue 8 / December 2016
Published online by Cambridge University Press:

11 January 2016

, pp. 1701-1707

When and where marine eels spawn is poorly known even though species such as those of the family Congridae, Muraenidae and Ophichthidae can be caught in continental shelf habitats. The congrid genus Ariosoma includes small continental shelf eel species whose life histories are not yet known. Mature male and female eels of Ariosoma meeki were observed and captured on 17 August 2009 at the surface at night in the western side of the Kuroshio Current in the East China Sea close to new moon, while they were swimming slowly at the surface and exhibiting apparent reproduction-related behaviour. One male and one sex-unidentified eel (seemingly a male based on body shape) were observed to be chasing one larger female with their heads located near her urogenital pore area. The gonads of the female (540 mm) and the male (410 mm) that were caught by a long-handled dip net were in reproductive condition, because some eggs or seminal fluid were released during handling of the two specimens and high gonad-somatic index (GSI) values of 53 in the female and 20 in the male were recorded. This is one of the few cases in which fully ripe reproductive-condition marine eels have been observed or collected and it provides rare information about the spawning location and timing of this eel species.
---
Journal: Urban History / Volume 7 / May 1980
Published online by Cambridge University Press:

09 February 2009

, pp. 63-75

Print publication:

May 1980

The planning system which dominates most of the comtemporary world is of European and American origin. It has come out of the particular socio-historical background of these Western countries and has naturally had some implicit assumptions regarding the concepts, purposes and ideology of planning. This system has been exported to, and often imposed upon, countries with different social conditions where those assumptions are not necessarily valid. As a result, in many developing countries, planning is considered ineffective, and planners become frustrated.
---