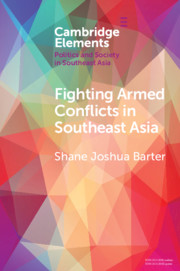 Ethnicity and Difference
Published online:

28 September 2020

Print publication:

08 October 2020

This Element seeks to make sense of Southeast Asia's numerous armed conflicts. It makes four contributions. First, this study provides a typology, distinguishing between revolutionary, secessionist, and communal conflicts. The first two are types of insurgencies, while the latter are ethnic conflicts. Second, this study emphasizes the importance of ethnicity in shaping conflict dynamics. This is true even for revolutionary conflicts, which at first glance may appear unrelated to ethnicity. A third contribution relates to broad conflict trends. Revolutionary and secessionist conflicts feature broad historical arcs, with clear peaks and declines, while communal conflicts occur more sporadically. The fourth contribution ties these points together by focusing on conflict management. Just as ethnicity shapes conflicts, ethnic leaders and traditions can also promote peace. Cultural mechanisms are especially important for managing communal conflicts, the lone type not declining in Southeast Asia.
---
Edited by ,

Northwestern University, Illinois

,

,

Dartmouth College, New Hampshire

,

,

Vassar College, New York

Published online:

05 October 2015

Print publication:

22 October 2015

, pp

226-245

Summary

Rebel organizations cannot be understood solely in terms of their coercive capacities. Many seek to displace the state and usurp its functions. How do rebel groups establish systems of governance? Applying Migdal's state in society approach, I show how rebel governance can evolve through alliances with societal forces. I do so by focusing on the evolution of the Free Aceh Movement (GAM) in Indonesia. GAM came to govern a handful of districts by allying with two groups – rural Islamic teachers (ulama) and urban student activists – whose goals and identities were in many ways at odds with its own. These rebel state/society alliances were mutually beneficial. Ulama and activists gained security and were able to pursue their agendas through GAM, which in turn gained wider support and the capacity to govern the local population. These alliances were also transformative, resulting in significant convergence in terms of the identities and goals of all parties.
---
Journal: Journal of Southeast Asian Studies / Volume 46 / Issue 1 / February 2015
Published online by Cambridge University Press:

12 January 2015

, pp. 60-85

Print publication:

February 2015

Challenging conventional wisdom, this article argues that Indonesia — long home to both large-scale transmigration programmes and a range of conflicts — has not witnessed transmigrant conflicts. The vast majority of Indonesian transmigrants were resettled in parts of Sumatra which have remained peaceful. In some conflicts, the role of transmigration has been exaggerated. In others, interethnic violence has involved spontaneous migrants rather than state-led transmigrants. We conclude with a discussion of two potential outliers, where violence has been directed towards transmigrants, but only those from disaster-affected regions who arrived en masse. This article argues for a more nuanced understanding of the distinctions between different forms of internal migration, some of which have the potential to spark future violence in recipient areas and communities.
---