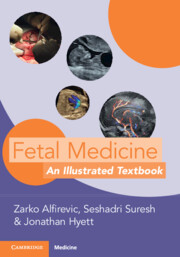 An Illustrated Textbook

Coming soon

Expected online publication date:

June 2023

Print publication:

30 June 2023

Evidence-based clinical guidelines are designed to provide systematically developed recommendations to assist clinicians and their patients in making decisions about appropriate treatment for specific conditions. While these may often be widely available, nowhere are they collated into a single, practical text. This book will fill this need for those working in maternal-fetal medicine, comprehensively covering the conditions, diagnostic and therapeutic challenges faced by those working in fetal care. Presented in highly illustrated, algorithm format with fetograms and autopsy correlations included, this book will aid in the diagnosis, investigation, counselling and therapeutic options for the management of fetal abnormalities and disorders.
---