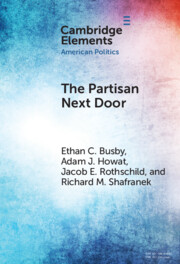 Stereotypes of Party Supporters and Consequences for Polarization in America
Published online:

16 September 2021

Print publication:

07 October 2021

In the United States, politics has become tribal and personalized. The influence of partisan divisions has extended beyond the political realm into everyday life, affecting relationships and workplaces as well as the ballot box. To help explain this trend, we examine the stereotypes Americans have of ordinary Democrats and Republicans. Using data from surveys, experiments, and Americans' own words, we explore the content of partisan stereotypes and find that they come in three main flavors—parties as their own tribes, coalitions of other tribes, or vehicles for political issues. These different stereotypes influence partisan conflict: people who hold trait-based stereotypes tend to display the highest levels of polarization, while holding issue-based stereotypes decreases polarization. This finding suggests that reducing partisan conflict does not require downplaying partisan divisions but shifting the focus to political priorities rather than identity—a turn to what we call responsible partisanship.
---
Journal: The Antiquaries Journal / Volume 92 / September 2012
Published online by Cambridge University Press:

02 October 2012

, pp. 504-505

Print publication:

September 2012
---
Dimitre A. Dimitrov

,

Richard Busby

,

John R. Cary

,

Ilan Ben-Zvi

,

John Smedley

,

Xiangyun Chang

,

Triveni Rao

,

Jeffrey W. Keister

,

Erik M. Muller

,

Andrew Burrill
Journal: MRS Online Proceedings Library Archive / Volume 1203 / 2009
Published online by Cambridge University Press:

31 January 2011

, 1203-J17-43

Print publication:

2009

A promising new concept of a diamond amplified photocathode for generation of high-current, high-brightness, and low thermal emittance electron beams was recently proposed and is currently under active development. To better understand the different effects involved, we have been developing models, within the VORPAL computational framework, to simulate secondary electron generation and charge transport in diamond. The implemented models include inelastic scattering of electrons and holes for generation of electron-hole pairs, elastic, phonon, and charge impurity scattering. We will discuss these models and present results from 3D VORPAL simulations on charge gain and collection efficiency as a function of primary electron energy and applied electric field. The implemented modeling capabilities already allow us to investigate specific effects and compare simulation results with experimental data.
---