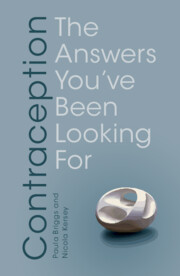 The Answers You've Been Looking For

Coming soon

Expected online publication date:

May 2023

Print publication:

31 May 2023

Choosing the right method of contraception can be confusing: you need to consider your lifestyle, personal preference, any health conditions you might have, and how effective each method is at preventing pregnancy. Discussing options with your doctor may seem daunting, and information on social media can be misinformed and overwhelming. This handy guide, written by two experts in Sexual and Reproductive Health, will answer all your questions about contraception, helping you decide what works best for you. The authors walk you through every method of contraception, with information on how it works, how to use it correctly and how effective it is. The authors also explain how and when conception can occur during the menstrual cycle, how life stage can affect your choice, and how hormonal contraception can be used to help other health conditions. From the pill to the condom and everything in between, pick what's right for you.
---
Book: Managing the Menopause
Published online:

18 June 2020

Print publication:

02 July 2020

, pp

194-207

Summary

The World Health Organization (WHO) defines menopause as the permanent cessation of menstruation due to loss of ovarian follicular activity [1]. It is a retrospective diagnosis, which can only be made with certainty after 12 months of spontaneous amenorrhoea. The average age of menopause in UK women is 51 [2].
---