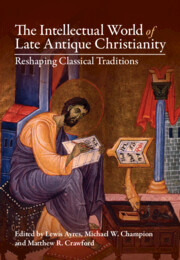 Reshaping Classical Traditions

Coming soon

Expected online publication date:

October 2023

Print publication:

31 October 2023

The Intellectual World of Late-Antique Christianity explores new perspectives on early Christian epistemology in relation to the changing discourses, institutions, and material culture of late antiquity. Early Christian modes of knowing and ordering knowledge involved complex processes of appropriation, reproduction, and reconfiguration of Jewish and classical epistemologies. This helped Christians develop cultures of interpretation and argument as textually oriented religious communities within the Roman Empire and beyond. It laid an intellectual foundation that would be built upon and modified in a variety of later contexts. Encompassing Greek, Latin, and Syriac Christianity, and an historical arc that stretches from the New Testament to Bede, this volume traces how diverse theological commitments resulted in distinctive Christian accounts of knowing. It foregrounds the myriad ways in which early Christian epistemology was embedded in earlier intellectual traditions and forms of life, and how they established norms for communal life and powerful ways of acting in the world.
---
Edited by ,

University of Western Ontario

,

,

University of Western Ontario

,

,

University of Western Ontario

Book: Handbook of ICU Therapy
Published online:

05 February 2015

Print publication:

04 December 2014

, pp

vii-xii
---
Journal: The Classical Review / Volume 64 / Issue 2 / October 2014
Published online by Cambridge University Press:

14 April 2014

, pp. 431-433

Print publication:

October 2014
---