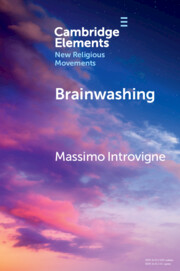 Reality or Myth?
Published online:

25 June 2022

Print publication:

21 July 2022

The events of January 6, 2021 gave new currency to the idea of brainwashing. Some claimed that Trump's followers had been brainwashed, while others insisted that a 'deep state' had brainwashed most Americans into accepting a rigged election. Scholars who explain that brainwashing theories have long been rejected by most academics and courts of law find it difficult to be heard. Brainwashing nevertheless remains a convenient explanation of how seemingly normal citizens convert to unusual religious or political ideologies. This Element traces its origins to the idea that conversion to deviant beliefs is due to black magic. A more scientific hypnosis later replaced magic and the Cold War introduced the supposedly infallible technique of brainwashing. From the 1960s, new religious movements, more commonly called cults, were accused of using brainwashing. Most scholars of religion reject the theory as pseudoscience, but the controversy continues to this day.
---
Book: Hermes Explains
Published by: Amsterdam University Press
Published online:

24 November 2020

Print publication:

02 July 2019

, pp

161-167

Summary

On July 14, 2018, with my colleagues Joe Laycock and Richard Noll, I participated in Salem, Massachusetts, in a debate with the founder of the Satanic Temple, Lucien Greaves, about the notion of "cults." The Satanic Temple is a humanist organisation devoted to the defence of rationality and science, using Satan as a signifier of both, and hailing him as a symbol of the fight against obscurantism and superstition. The Temple has produced a huge statue of the "Baphomet" (colour plate 10), based on a famous image created by French nineteenth-century occultist author, Éliphas Lévi (Alphonse Louis Constant, 1810–1875). Wherever in the United States there is a statue of Jesus or another Christian symbol on public grounds, the Temple and its skilled lawyers descend and ask, in the name of equal rights for different religious world-views, to place their Baphomet next to the Christian statue. More often than not, their lawsuits result in the judges deciding that the Christian symbol should be removed in furtherance of the principle of separation between Church and State, which is what the Temple really wanted in the first place. As I mentioned tongue-in-cheek in the debate, the Temple is worse than a Satanic cult: it is a cult of lawyers. Much more seriously, however, Greaves disagreed with the scholars, who cautioned against using the word "cult." Unlike the Satanic Temple, he insisted, which is a force for reason and science, irrationalist, authoritarian religious or esoteric organisations are indeed "dangerous cults."

My travels bring me to unusual places. In 2017, I was invited, with other Western scholars, to two seminars in China organised by the Chinese Anti-Xie-Jiao Association, which has a direct connection with the Chinese Communist Party (CCP), to discuss the notion of xie jiao. "Evil cults" is the translation of xie jiao in official English-language Chinese documents, but most Chinese-speaking scholars agree that the translation is wrong. The term xie jiao was introduced in China to designate "unorthodox teachings" in the Ming era, centuries before controversies about "cults" erupted in the West. The Emperor "decided on the basis of his own judgement" which religions and movements should be banned as xie jiao, and the judgement was often primarily political.
---
Published online:

09 July 2009

Print publication:

06 May 2002

, pp

170-188

Summary

On October 5, 1994, the Swiss police found the bodies of forty-eight members of the Order of the Solar Temple (OTS) on a farm in Cheiry and in three chalets in Granges-sur-Salvan. This tragic incident changed the entire picture of cult controversies in Western Europe, much more than events at Jonestown did in 1978 in the United States (Shupe, Bromley, and Breschel 1989). Its impact was reinforced by two subsequent OTS suicides, as well as by the Aum Shinrikyô case in Japan. Although active from the early 1970s, the European anticult movement had received minimal public support. After 1994, parliamentary commissions were appointed to investigate the danger of cults, and they produced, particularly throughout French-speaking Europe, official reports that essentially mirrored the views of the anticult movement. Although later reports were somewhat more moderate (Introvigne 1999a; Richardson and Introvigne 1999), documents produced in France (Assemblée Nationale 1996, 1999), Belgium (Chambre des Représentants de Belgique 1997), and the Canton of Geneva (Audit sur les dérives sectaires 1997) maintained a strict anticult position. It is significant that in addition to Quebec, the largest numbers of victims in the 1994 OTS tragedy were located in France (where an official "Mission to Fight Cults" was established in 1998), Belgium, and the Canton of Geneva.

In this chapter we discuss how a violent relationship between the OTS and the social order developed.
---