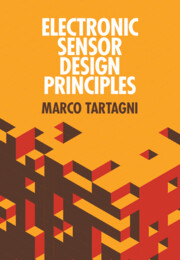 Coming soon

Expected online publication date:

December 2021

Print publication:

06 January 2022

Get up to speed with the fundamentals of electronic sensor design with this comprehensive guide, and discover powerful techniques to reduce the overall design timeline for your specific applications. Includes a step-by-step introduction to a generalized information-centric approach for designing electronic sensors, demonstrating universally applicable practical approaches to speed up the design process. Features detailed coverage of all the tools necessary for effective characterization and organization of the design process, improving overall process efficiency. Provides a coherent and rigorous theoretical framework for understanding the fundamentals of sensor design, to encourage an intuitive understanding of sensor design requirements. Emphasising an integrated interdisciplinary approach throughout, this is an essential tool for professional engineers and graduate students keen to improve their understanding of cutting-edge electronic sensor design.
---
Book: Green RFID Systems
Published online:

05 October 2014

Print publication:

25 September 2014

, pp

38-75

Summary

Introduction

Electronics is progressively penetrating more deeply into human lives: integration has made possible the wealth of many small mobile devices that society currently enjoys (e.g. smart phones, MP3 players, GPS navigation assistants, etc.). In this scenario, active RFID systems hold the promise of implementing smart environment and objects, and can ease processes in many applications fields, e.g. industrial processes, personal healthcare, environmental monitoring. Pervasive computing and wireless sensor networks are introducing their potential while power consumption has been greatly reduced thanks to energy-aware design techniques. The availability of low cost batteries has been one of the main drivers of these advances, even though it now represents one of the main limitations. In fact, power supplies still mainly rely on electrochemical cells with limited stored charge and are often impracticable to replace.

During the last years energy harvesting from ambient sources has proven to be a viable solution: the environment is an intrinsic source of low-density highly available energy [1] in either steady or intermittent and irregular forms such as, for example, vibrations [2], thermal gradients [3], indoor light [4], and electromagnetic radiation [5]. At the current state of the art, most energy harvesters can provide in practical cases an output power density of about 10–100 µW/cm3 [6]. In this scenario, mechanical vibrations represent a viable solution for powering low power electronic systems (e.g. wireless sensor nodes, personal healthcare devices, etc.).
---