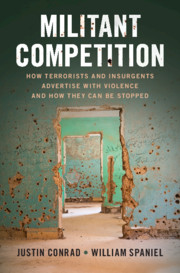 How Terrorists and Insurgents Advertise with Violence and How They Can Be Stopped

Coming soon

Expected online publication date:

August 2021

Print publication:

31 October 2021

Militant groups often use violence, perversely, to gain attention and resources. In this book, the authors analyze how terrorist and rebel organizations compete with one another to secure funding and supporters. The authors develop a strategic model of competitive violence among militant groups and test the model's implications with statistical analysis and case studies. A series of model extensions allow the authors to incorporate the full range of strategic actors, focusing in particular on government efforts to counter and deter violence. The results indicate that the direct effects of competition are not as clear as they may seem, and interventions to alter competitive incentives may backfire if states are not careful. This is a timely contribution to a growing body of political economy research on militant group fragmentation, rivalry, fratricide and demonstrative violence.
---
By , , , , , , , , , , , , , , , , , , , , , , , , , , , , , , , , , , , , , , , , , , , , , , , , , , , , , , , , , , , , , , , , , , , , , , , , , , , , , , , , , , , , , , , , , , , , , , , , , , , , , , , , , , , , , , , , , , , , , , , , , , , , , , , , , , , , , , , , , , , , , , , , , , , , , , , , , , , , , , , , , , , , , , , , , , , , , , , , , , , , , , , , , , , , , , , , , , , , , , , , , , , , , , , , , , , , , , , , , , , , , , , , , , , , , , , , , , , , , , , , , , , , , , , , , , , , , , , , , , , , , , , , , , , , , , , , , , , , , , , , , , , , , , , , , , , , , , , , , , , , , , , , , , , , , , , , , , , , , , , , , , , , , , , , , , , , , , , , , , , , , , , , , , , , , , , , , , , , , , , , , , , , , , , , , , , , , , , , , , , , , , , , , , , , , , , , , , , , , , , , , , , , , , , , , , , , , , , , , , , , , , , , , , , , , , , , , , , , , , , , , , , , , , , , , , , , , , , , , , , , , , , , , , , , , , , , , , , , , , , , , , , , , , , , , , , , , , , , , , , , , , , , , , , , , , , , , , , , , , , , , , , , , , , , , , , , , , , , , , , , , , , , , , , , , , , , , , , , , , , , , , , , , , , , , , , , , , , , , , , , , , , , , , , , , , , , , , , , , , , , , , , , , , , , , , , , , , , , , , , , , , , , , , , , , , , , , , , , , , , , , , , , , , , , , , , , , , , , , , , , , , , , , , , , , , , , , , , , , , , , , , , , , , , , , , , , , , , , , , , , , , , , , , , , , , , , , , , , , , , , , , , , , , , , , , , , , , , , , , , , , , , , , , , , , , , , , , , , , , , , , , , , , , , , , , , , , , , , , , , , , , , , , , , , , , , , , , , , , , , , , , , , , , , , , ,

Published online:

05 August 2012

Print publication:

20 September 2010

, pp

xi-xliv
---
Published online:

06 July 2010

Print publication:

12 April 2010

, pp

xi-xii
---