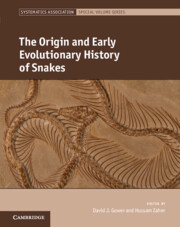 Coming soon

Expected online publication date:

July 2022

Print publication:

31 July 2022

Snakes comprise nearly 4,000 extant species found on all major continents except Antarctica. Morphologically and ecologically diverse, they include burrowing, arboreal, and marine forms, feeding on prey ranging from insects to large mammals. Snakes are strikingly different from their closest lizard relatives, and their origins and early diversification have long challenged and enthused evolutionary biologists. The origin and early evolution of snakes is a broad, interdisciplinary topic for which experts in palaeontology, ecology, physiology, embryology, phylogenetics, and molecular biology have made important contributions. The last 25 years has seen a surge of interest, resulting partly from new fossil material, but also from new techniques in molecular and systematic biology. This volume summarises and discusses the state of our knowledge, approaches, data, and ongoing debates. It provides reviews, syntheses, new data and perspectives on a wide range of topics relevant to students and researchers in evolutionary biology, neontology, and palaeontology.
---
Journal: Journal of Paleontology / Volume 77 / Issue 3 / May 2003
Published online by Cambridge University Press:

20 May 2016

, pp. 536-558

Print publication:

May 2003

The fossil snake species Haasiophis terrasanctus Tchernov, Rieppel, Zaher, Polcyn, and Jacobs, 2000, from the early Upper Cretaceous of the Middle East, is described and illustrated, following a review of the current debate on snake relationships and origins. The description and discussion presented here adds important detail to the knowledge of this taxon and its phylogenetic significance beyond the limited account presented in the original description of Haasiophis. The species is remarkable in that it shows the skull of a relatively advanced (i.e., macrostomatan) snake, yet preserves well-developed hind limbs. The hind limb includes a femur, tibia, fibula, astragalus, calcaneum, distal tarsal four, and remains of four metatarsals and two phalanges. Haasiophis cannot be considered a juvenile specimen of Pachyrhachis. The implications of the presence of well-developed hind limbs in Haasiophis, Pachyrhachis, and Podophis for the cladistic analysis of the phylogenetic interrelationships of these fossil snakes is discussed. The presence of well-developed hind limbs in Pachyrhachis and Haasiophis also creates methodological problems for the cladistic analysis of the phylogenetic relationships of these fossil snakes. Scenarios of snake origins are reviewed and found to be deficient in the absence of a well-corroborated hypothesis of snake relationships within Squamata.
---
Journal: Bulletin of the Natural History Museum: Zoology Series / Volume 68 / Issue 2 / 28 November 2002
Published online by Cambridge University Press:

09 December 2002

, pp. 123-130

Print publication:

28 November 2002

The skull anatomy of uropeltines is reviewed, and new data is presented on the highly derived otico-occipital region. A phylogenetic analysis of uropeltine interrelationships using parsimony is performed using characters derived from skull structure. The basal position of the genus Melanophidium is confirmed; Pseudotyphlops is a relatively derived uropeltine, in spite of its relatively large size. The monophyly of the genera Melanophidium and Rhinophis requires further testing.
---