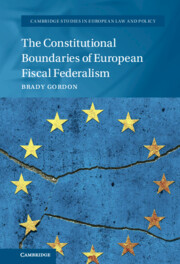 Coming soon

Expected online publication date:

April 2022

Print publication:

30 April 2022

This book bridges the study of European constitutionalism with the study of 'fiscal federalism' - the subfield of public economics concerned with structuring public finances between different levels of government in federal states. The first part of this book delves into European Union and Member State constitutional law from all EU Member States in order to investigate and identify the existence of permanent constitutional boundaries that will impinge upon the selection of proposed models for EU fiscal federalism. The second part engages the study of fiscal federalism in order to determine which institutional configurations known to that field remain legally and economically implementable within those boundaries. It provides a far-reaching investigation of which models of fiscal federalism are compatible with the constitutional boundaries of the European legal order.
---
Published online:

05 June 2014

Print publication:

26 May 2014

, pp

xiii-xiv
---
Journal: MRS Online Proceedings Library Archive / Volume 920 / 2006
Published online by Cambridge University Press:

01 February 2011

, 0920-S04-05

Print publication:

2006

The world is becoming more health conscious and as a result healthcare is evolving in many ways. Wearable computing is assisting with this evolution, finding its place in many biomedical applications where real-time monitoring of general health indicators is required. However, the inconvenience of connecting sensors through wires, which not only incurs high maintenance, limits the freedom of the person therefore hampering a true reflection of the person's actions. By using sensors attached to wireless sensor nodes, this constraint is removed. Also in order to be "wearable" the sensors must be comfortable, a factor often overlooked by traditional sensors, where functionality and robustness are of higher importance. This work is focused on the use of foam-based pressure sensors and similar textile-based sensors for monitoring the ambulatory movements of the wearer. Characterization of the molecular nature of the materials and their environment are presented. We find these sensors to be successful in detecting the movement events without imposing on the daily activity of the wearer.
---