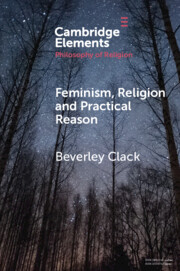 Published online:

30 November 2021

Print publication:

06 January 2022

Pamela Sue Anderson's A Feminist Philosophy of Religion (1998) and Grace Jantzen's Becoming Divine: Towards a Feminist Philosophy of Religion (1998) set the tone for subsequent feminist philosophies of religion. This Element builds upon the legacy of their investigations, revisiting and extending aspects of their work for a contemporary context struggling with the impact of 'post-truth' forms of politics. Reclaiming the power of collective action felt in religious community and the importance of the struggle for truth enables a changed perspective on the world, itself necessary to realise the feminist desire for more flourishing forms of life and relationship crucial to feminist philosophy of religion.
---
Journal: Royal Institute of Philosophy Supplements / Volume 70 / July 2012
Published online by Cambridge University Press:

12 April 2012

, pp. 255-279

Print publication:

July 2012

At one place in his collection of essays The Crane Bag and Other Disputed Subjects, the novelist and mythographer Robert Graves makes the following claim that might sound rather shocking to the ears of an analytic philosopher:

I find myself far more at home with mildly superstitious people – sailors and miners, for instance – than with stark rationalists. They have more humanity.
---
Journal: Religious Studies / Volume 27 / Issue 2 / June 1991
Published online by Cambridge University Press:

24 October 2008

, pp. 281-282

Print publication:

June 1991
---