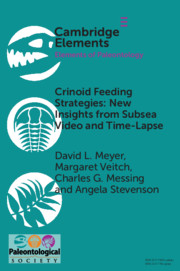 Published online:

17 February 2021

Print publication:

24 June 2021

Modern videography provides an ever-widening window into subsea echinoderm life with vast potential for new knowledge. Supported by video evidence throughout, this Element begins with time-lapse video made in 1983 on film, using an off-the-shelf camera, flash, and underwater housings. Although quality has now been significantly improved by digital imagery, films from over thirty years ago captured crinoid feeding behavior previously unknown and demonstrated a great potential to learn about many other aspects of their biology. This sequence is followed by several examples of recent digital videography from submersibles of deep-sea crinoids and remotely operated vehicles (ROVs) (stalked and unstalked), as well as close-up video of crinoids in aquaria. These recent studies enabled a new classification of crinoid arm postures, provided detailed views of food particle capture, and revealed a wide range of behaviors in taxa never before seen in life.
---
Journal: Paleobiology / Volume 43 / Issue 2 / May 2017
Published online by Cambridge University Press:

16 February 2017

, pp. 274-285

Print publication:

May 2017

Among extant crinoids, the feather stars are the most diverse and occupy the greatest bathymetric range, being especially common in reef environments. Feather stars possess a variety of morphological, behavioral and physiological traits that have been hypothesized to be critical to their success, especially in their ability to cope with predation. However, knowledge of their predators is exceptionally scant, consisting primarily of circumstantial evidence of attacks by fishes. In this study the question whether regular echinoids, recently shown to consume stalked crinoids, also consume feather stars is explored. Aquarium observations indicate that regular echinoids find feather stars palatable, including feather stars known to be distasteful to fish, and that regular echinoids can capture and eat live feather stars, including those known to swim. Gut-content analyses of the echinoid Araeosoma fenestratum (Thomson, 1872), which is commonly observed with large populations of the feather star Koehlermetra porrecta (Carpenter, 1888) in video transects from marine canyons off the coast of France, revealed elements of feather stars in the guts of 6 of 13 individuals. The high proportion of crinoid material (up to 90%), and the presence of articulated crinoid skeletal elements in the gut of A. fenestratum, suggest that these echinoids consumed at least some live crinoids, although they may have also ingested some postmortem remains found in the sediment. Additionally, photographic evidence from the northeast Atlantic suggests that another regular echinoid, Cidaris cidaris (Linnaeus, 1758), preys on feather stars. Thus in spite of the broad suite of antipredatory adaptations, feather stars are today subject to predation by regular echinoids and may have been since the Mesozoic, when this group of crinoids first appeared.
---
Journal: Public Health Nutrition / Volume 3 / Issue 1 / March 2000
Published online by Cambridge University Press:

02 January 2007

, pp. 31-38

Print publication:

March 2000

Objective

To develop and map indices to illustrate variation in the cost and availability of healthy food.

Design

Two contiguous wards in London were selected by virtue of their high Carstairs deprivation scores. A 2-km area was defined around a randomly chosen central point. All retail outlets selling food within the area were visited and their location recorded. A list of foods, acceptable to the local ethnically diverse population, which met current dietary guidelines, was devised. Data on the availability and price of 71 food items were collected. Indices were developed using SPSS and mapped using Geographic Information System (GIS) software.

Results

Information on availability and prices were collected from 199 outlets. The mean price index shows how expensive a shop is relative to other shops in the area. The least cost index shows the relative expense of a shop using the cheapest ways of buying their range of foods. Shorthand indices were tested, using data on 19 of the 71 prices. Availability indices are also discussed, including a green availability index and a fresh green availability index. Illustrative maps of the shop locations and the mean price index and fresh green availability index are shown.

Conclusions

Data can be collected and indices developed which indicate geographic variation in shop 'expensiveness', and in the price and availability of healthy food. GIS software can be used to map these indices, to identify areas with high food prices or low availability.
---