ISSN:

0361-5413 (Print)

,

1558-2744 (Online)

Editors:

Lorelle Semley College of the Holy Cross, USA, Teresa Barnes University of Illinois, Urbana-Champaign, USA, Bayo Holsey Emory University, USA, Lorelle Semley College of the Holy Cross, USA, and Egodi Uchendu University of Nigeria, Nigeria
History in Africa is an international, peer-reviewed academic journal that publishes original research and review essays on methodological and historiographical matters pertaining to African history. It has been at the forefront of critical discussion of these topics for more than four decades. It seeks submissions that suggest new methodological approaches, provide insights into source materials, and reflect critically on themes in existing literatures or emerging fields of inquiry.History in Africa is a venue for rigorous analysis of both established and emerging research practices as well as of the resulting scholarly production about the African past.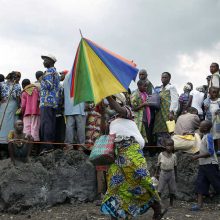 02 June 2021,
The African Union (AU) declared 2019 the Year of Refugees, Returnees and Internally Displaced Persons: Towards Durable Solutions to Forced Displacement in Africa.…...
03 June 2021,
So said former CIA Director R. James Woolsey to the House Armed Services Committee in 1999, channeling what had become a consensus about Iraq in the U.S. foreign...
2017 African Studies Distinguished Review Lecture