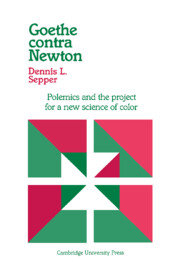 Goethe contra Newton
Polemics and the Project for a New Science of Color
Buy print or eBook
[Opens in a new window]
3 - The problematics of Newton's theory of white light and colors
Published online by Cambridge University Press:  21 November 2009
Summary
It was not hard to discover his error, for many others before me had noticed it; but it is hard to elaborate, for none of his opponents have yet managed it, and perhaps I shall not either; I shall do my best all the same, so that even if I too am damned as a heretic, at least a more fortunate successor may find a usable preliminary work.
– Goethe (

LA

, I, 3: 160–61).
Goethe's critique of Newton: a preliminary orientation
In an essay on Newton's hypothesis of diverse refrangibility, which dates from about 1793 and apparently was intended as the introduction to a major didactic, historical, and critical work on the theory of light and colors, Goethe discussed some of the deficiencies he had discovered in Newton's theory, particularly the version presented in Newton's first genuinely public statement of it, the letter to the Royal Society of London of 6 February 1671/72.
Above all I must emphasize most strongly that diverse refrangibility is not a fact [keine Tatsache, kein Faktum]. Newton himself narrates for us the course of his observations and his conclusions; the attentive critic is therefore able to follow close on his heels. Here I will only sketch in the outlines of the detailed presentation, which will be contained in the work itself [that was to follow]. […]
Type

Chapter

Information

Publisher: Cambridge University Press

Print publication year: 1988