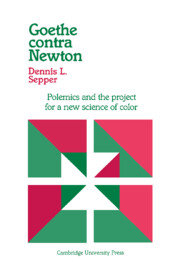 Goethe contra Newton
Polemics and the Project for a New Science of Color
Buy print or eBook
[Opens in a new window]
Preface
Published online by Cambridge University Press:  21 November 2009
Summary
People say: between two opposed opinions the truth lies in the middle. Not at all! Between them lies the problem, what is unseeable, eternally active life, contemplated [gedacht] in repose.
– Goethe (

MR

, no. 616)
Johann Wolfgang von Goethe's Farbenlehre has produced bitter controversy for almost two centuries. Consequently, a work that presumes to illuminate its most controversial aspect, the polemic against Sir Isaac Newton's theory of white light and colors, should indicate at the outset its position with respect to the controversy. The first and most important point is that there is no simple answer to what seems the basic question, "Who is right, Newton or Goethe?" Attempts to answer the question involve more than sorting out the details. The different fundamental aspects under which the question must be posed – phenomenal, theoretical, methodological, historical, and philosophical – must also be clarified.
Common opinion, including the consensus of the physical literature, holds that the Goethe–Newton conflict can be resolved by simple fact. It is interesting that even many of the partisans of Goethe's science have agreed, but they think the facts speak for Goethe rather than Newton! This circumstance made me realize that the issue of fact itself had to be raised, because the question of what factuality is lies at the heart of Goethe's color science and his repudiation of Newton.
Type

Chapter

Information

Publisher: Cambridge University Press

Print publication year: 1988