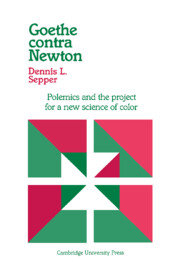 Goethe contra Newton
Polemics and the Project for a New Science of Color
Buy print or eBook
[Opens in a new window]
2 - The Farbenlehre in its origin
Published online by Cambridge University Press:  21 November 2009
Summary
Before reviewing the early history of Goethe's interest in color and the beginnings of his own Farbenlehre, we must first consider the flawed presentation of Newton's theory in scientific textbooks and encyclopedias of the eighteenth century, in order to recognize the full scope of Goethe's intentions, and then briefly examine the method Goethe had already followed in his scientific work of the 1780s. After investigating Goethe's first publication on color, including its implicit criticism of prevailing doctrine and method, we shall consider the failure of this work to gain an audience and the reasons for his delaying further publication until 1810.
Goethe's writings on color
In the years 1786–88, Goethe began investigating whether one could ascertain rules to govern the artistic use of color. Later (probably in early 1790; see Matthaei 1949), in the hope that the physical theory of color would provide a guide, he performed his first experiments with prismatic colors. More extensive work with the prism led to the two Beiträge zur Optik (contributions to optics) that appeared in 1791 and 1792; they retail in comprehensive fashion phenomena observed by looking through prisms at objects and prepared displays. Although Goethe intended to continue the series of Beiträge until he had run the gamut of color phenomena, and although he continued for several years to work toward this end, he did not publish anything more on color, apart from some verse epigrams, until 1810, when Zur Farbenlehre appeared.
Type

Chapter

Information

Publisher: Cambridge University Press

Print publication year: 1988