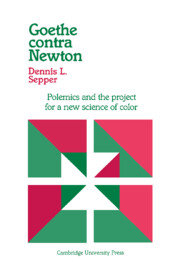 Goethe contra Newton
Polemics and the Project for a New Science of Color
Buy print or eBook
[Opens in a new window]
4 - Factuality, certainty, and the organization of science
Published online by Cambridge University Press:  21 November 2009
Summary
The highest thing would be: to grasp that everything factual is already theory. The blue of the sky reveals to us the fundamental law of chromatics. Do not search for anything behind the phenomena: They themselves are the teaching.
– Goethe (

MR

, no. 575)
The shifting focus of the debate about color
By making the science of colors mathematical, Newton made it possible to dispense with most of the phenomena. A theory needs the evidence of only a few experiments, the rest amounts to working out the mathematical theorems. The chief evidentiary instrument is the crucial experiment, which does not leave room for doubt about which explanations are true and which are not. Beyond the crucial experiment one may certainly go, but anything more will be illustration of the now-established theory rather than proof. Furthermore, proving the theory wrong by offering new experimental evidence is virtually impossible. Experimenters make mistakes, but mathematics does not. Thus, natural philosophy no longer concerns itself first and foremost with nature but instead with the mathematical abstractions of theory. Theory takes full possession of the phenomena and gives them weight and consistency; the theory turns isolated events and facts into evidence, or at least consequences, of the theory.
Type

Chapter

Information

Publisher: Cambridge University Press

Print publication year: 1988