3

results

in Cambridge Reviews in Clinical Immunology
---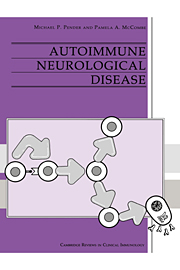 Published online:

22 September 2009

Print publication:

27 October 1995

This book provides a comprehensive, up-to-date and critical overview of the immunological aspects of autoimmune neurological disease. These diseases include common conditions such as multiple sclerosis, the Guillain-Barre syndrome and myasthenia gravis. The introductory chapters on antigen recognition and self-nonself recognition, and neuroimmunology, are followed by chapters on specific diseases. These are presented in a standardised format with sections on clinical features, genetics, neuropathology, pathophysiology, immunology and therapy. Each chapter has a concluding section which summarises key points and suggests directions for future research. Animal models of autoimmune neurological disease are also covered in detail because of their importance in understanding the human diseases. The book is suitable for clinicians and neurologists managing patients with these diseases, and for immunologists, neuroscientists and neurologists investigating the pathogenesis and pathophysiology of these disorders.
---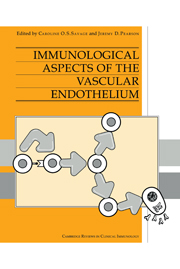 Published online:

04 August 2010

Print publication:

07 September 1995

Originally published in 1995, this volume looks at the functioning of the vascular endothelium, and the diseases and tissue injury that arise as a result of inflammation and immunological responses. The vascular endothelium is a metabolically highly active layer of cells lining all blood vessel walls. Through its interactions with leucocytes and other mediators, it is central to the development of inflammatory foci and to lymphocyte trafficking around the body. Tissue injury may arise here as a result of abnormal inflammatory or immune responses. The potential for such injury to contribute to autoimmune disease is discussed in this book, particularly in relation to autoimmune vascular disease of the renal, rheumatological and neurological systems, as well as in organ transplantation.
---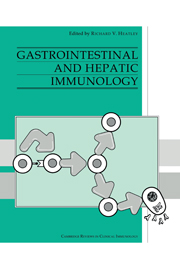 Published online:

03 February 2010

Print publication:

27 October 1994

Originally published in 1994, this volume analyzes scientific and clinical advances in gastrointestinal and liver immunology. An international team of authorities summarizes basic scientific advances in the area of the gut immune system and the immune abnormalities relevant to gastrointestinal and liver disease. It includes the latest developments in relation to organ transplantation of the liver and gut, HIV infection of the gut and the recently discovered disease H. pylori gastritis. Disorders of autoimmunity are also focused upon as well as immunodeficiency. A feature of the volume is to highlight the relevance of such scientific advances to the clinical management of patients with immune gut and liver disorders. The volume will be of interest to all scientists interested in mucosal immunology, for clinical immunologists, gastroenterologists and hepatologists, transplant surgeons and paediatricians.
---