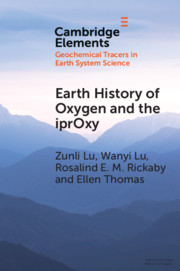 Published online:

11 September 2020

Print publication:

08 October 2020

How oxygen levels in Earth's atmosphere and oceans evolved has always been a central question in Earth System Science. Researchers have developed numerous tracers to tackle this question, utilizing geochemical characteristics of different elements. Iodine incorporated in calcium carbonate (including biogenic) minerals, reported as I/Ca, is a proxy for dissolved oxygen in seawater. Here we review the rationale behind this proxy, its recent applications and some potential future research directions.
---
Journal: European Psychiatry / Volume 17 / Issue 3 / May 2002
Published online by Cambridge University Press:

16 April 2020

, pp. 163-166

The Swiss trials on medical prescription of injectable diacetylmorphine (pharmaceutical heroin) for "severe" heroin dependence provoked very controversial commentaries. Despite methodological shortcomings, the evaluation of the Swiss heroin trials yielded some interesting findings. Study participants showed substantial improvements in health and well-being and noticeable declines in illicit drug use and criminal activities. Heroin prescription may thus be helpful for some of those who continue to regularly use illicit heroin while maintained on methadone or who refuse other available treatment options. However, research-based evidence suggests that the intravenous (IV) application of heroin under medical supervision may have untoward side effects. Recent studies have shown that heroin injections produce transient, but significant decreases in systemic and cortical oxygenation most likely secondary to respiratory depression. Among others, these effects are the subject of ongoing studies.
---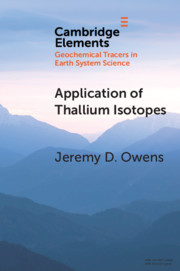 Tracking Marine Oxygenation through Manganese Oxide Burial
Published online:

05 December 2019

Print publication:

02 January 2020

Tracking initial ocean (de)oxygenation is critical to better constrain the coevolution of life and environment. Development of thallium isotopes has provided evidence to track the global manganese oxide burial which responds to early (de)oxygenation for short-term climate events. Modern oxic seawater thallium isotope values are recorded in organic-rich sediments deposited below an anoxic water column. An expansion of reducing conditions decrease manganese oxide burial and shifts the seawater thallium isotope composition more positive. Recent work documents that thallium isotopes are perturbed prior to carbon isotope excursions, suggesting ocean deoxygenation is a precursor for increased organic carbon burial. This Element provides an introduction to the application of thallium isotopes, case studies, and future directions.
---