Published online:

16 April 2020

Print publication:

07 May 2020

, pp

1-29

Summary

The C40 city-network claims a position of global leadership in the governance of climate change. This chapter provides a brief overview of the history of the network, its member cities, and their collective aims and objectives. The chapter introduces the empirical puzzle around which the book is organized, namely the ability of the C40 to achieve coordinated action from a diverse collection of cities despite relying on voluntary participation and engagement. The ability to do so sets the C40 apart from other similar city-networks and begs the question as to how it has been able to achieve coordination and collective effort. The chapter asserts that such voluntary coordination is only possible through the formation of a collective identity and draws on ideas from the scholarship on social fields, social constructivism, and social movements to develop a theory of global urban governance fields that explains when, how, and why the C40 has managed to generate convergence around a set of governance norms and a shared governance identity.
---
Published online:

16 April 2020

Print publication:

07 May 2020

, pp

30-55

Summary

The C40 has made assertive claims with respect to its ability to engender increased engagement, ambition, and scope of climate governance over both time and space. This chapter provides an independent corroboration of these claims, which have to-date been based on internal network data and analysis, by drawing on a novel dataset of over 10,000 climate governance actions adopted by C40 cities between 2001 and 2018. The chapter confirms that the C40 has increased the level of member city engagement, action, and ambition across geographic and economic divides. This renders the C40 distinct from other voluntary city-networks such as ICLEI and is deeply puzzling given the inability of these networks to deploy coercion or hard compliance mechanisms to close the gap between nominal commitments and concrete actions. The chapter concludes by considering three alternative explanations: as a function of economic development; as a function of inter-city learning, and as a function of the efforts of the network bureaucracy. Each is shown to be incomplete, thus demonstrating the need for a novel means of theorizing coordination in city-networks like the C40.
---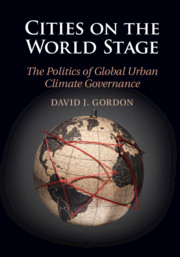 The Politics of Global Urban Climate Governance
Published online:

16 April 2020

Print publication:

07 May 2020

Cities are playing an ever more important role in the mitigation and adaption to climate change. This book examines the politics shaping whether, how and to what extent cities engage in global climate governance. By studying the C40 Cities Climate Leadership Group, and drawing on scholarship from international relations, social movements, global governance and field theory, the book introduces a theory of global urban governance fields. This theory links observed increases in city engagement and coordination to the convergence of C40 cities around particular ways of understanding and enforcing climate governance. The collective capacity of cities to produce effective and socially equitable global climate governance is also analysed. Highlighting the constraints facing city networks and the potential pitfalls associated with a city-driven global response, this assessment of the transformative potential of cities will be of great interest to researchers, graduate students and policymakers in global environmental politics and policy.
---