Book: Wisdom
Published online:

07 October 2021

Print publication:

28 October 2021

, pp

1-27

Summary

This chapter defines wisdom and discusses its relevance to life. In particular, it highlights wisdom as the search for a common good, by balancing one's own, others', and larger interests over the long- as well as the short-term through the infusion of positive ethical values. The chapter gives an extended example of how this definition applies in a real-life-type of situation. The chapter discusses each of the elements of wisdom in detail. It also provides some quiz material for people to try out these ideas for themselves. It relates wisdom to moral development, discussing in particular Kohlberg's theory. It also discusses the relevance of Haidt's theory of morality to wisdom. It further discusses how wisdom relates to ethical action, presenting a model of how ethical thought proceeds and how it is translated into action. Finally, it discusses how wisdom can be applied through either adapting to the environment, shaping the environment, or selecting a new environment.
---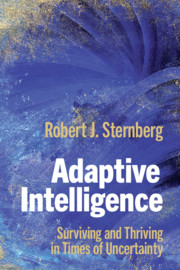 Surviving and Thriving in Times of Uncertainty
Published online:

21 January 2021

Print publication:

04 February 2021

Adaptive Intelligence is a dramatic reappraisal and reframing of the concept of human intelligence. In a sweeping analysis, Robert J. Sternberg argues that we are using a fatally-flawed, outdated conception of intelligence; one which may promote technological advancement, but which has also accelerated climate change, pollution, the use of weaponry, and inequality. Instead of focusing on the narrow academic skills measured by standardized tests, societies should teach and assess adaptive intelligence, defined as the use of collective talent in service of the common good. This book describes why the outdated notion of intelligence persists, what adaptive intelligence is, and how it could lead humankind on a more positive path.
---
Journal: Journal of African Law / Volume 60 / Issue 2 / June 2016
Published online by Cambridge University Press:

15 February 2016

, pp. 190-212

Print publication:

June 2016

Expropriation of private land rights involves two contradictory interests: there is a public need for land; and landholders expect security of tenure and protection of their private property rights. A satisfactory expropriation policy must strike a balance between these interests. Legislation must therefore only authorize the government to expropriate land rights for a clear and limited public purpose under the supervision of an independent body. The author argues that Ethiopia's rural land laws have defined the public purpose for the expropriation of rural land rights in different ways depending on the nature of the landholders. For peasants and pastoralists the public purpose requirement is defined vaguely and broadly, whereas for investors the concept is limited to projects implemented by government. The author argues that the protection of private property rights and security of tenure are further undermined by a legislative failure to authorize affected people to appeal to an independent body on the basis that the public purpose requirement has not been satisfied.
---