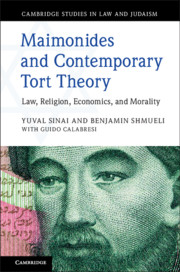 Law, Religion, Economics, and Morality

Coming soon

Expected online publication date:

January 2020

Print publication:

31 January 2020

Maimonides lived in Spain and Egypt in the twelfth century, and is perhaps the most widely studied figure in Jewish history. This book presents, for the first time, Maimonides' complete tort theory and how it compares with other tort theories both in the Jewish world and beyond. Drawing on sources old and new as well as religious and secular, Maimonides and Contemporary Tort Theory offers fresh interdisciplinary perspectives on important moral, consequentialist, economic, and religious issues that will be of interest to both religious and secular scholars. The authors mention several surprising points of similarity between certain elements of theories recently formulated by North American scholars and the Maimonidean theory. Alongside these similarities significant differences are also highlighted, some of them deriving from conceptual-jurisprudential differences and some from the difference between religious law and secular-liberal law.
---
Journal: Journal of Materials Research / Volume 29 / Issue 16 / 28 August 2014
Published online by Cambridge University Press:

27 August 2014

, pp. 1721-1729

Print publication:

28 August 2014

Utilization of PbZrxTi1−xO3 (PZT) nanofibers as functional flexible fillers in sensing and energy harvesting applications requires uniform, submicrometer fibers with a large aspect ratio. Previous studies concentrated on the rheological effects on the fiber's diameter and morphology. However, reports on the effect of electric field on these fiber properties are still scarce. In this paper, the effects of surface charge and electric field on the fiber branching are decoupled. We show unequivocally that the external electric field governs this phenomenon. Low viscosity (∼0.12 Pa s) PZT sols yielded a sharp step-like transition from a large to a small diameter regime at electric fields above 0.8 kV/cm. On the other hand, high viscosity sols (∼0.74 Pa s) yielded a transition from a single to a bimodal distribution at the same electric field, due to the branching effect. An ability to obtain a single or bimodal diameter distribution in the range of 100–800 nm was demonstrated.
---
Yuval Shmueli, Gennady E. Shter, Ossama Assad, Hossam Haick, Philippe Sonntag, Philippe Ricoux, Gideon S. Grader
Journal: Journal of Materials Research / Volume 27 / Issue 13 / 14 July 2012
Published online by Cambridge University Press:

17 May 2012

, pp. 1672-1679

Print publication:

14 July 2012

Nanofibers (NFs) of Ga-doped ZnO (GZO) were prepared by electrospinning of polymer–salts solution. Sintering profiles reported in the literature led to loss of the fibrous structure. Hence, the morphology, thermal stability, and phase composition of green and sintered fibers were investigated as function of sintering conditions to elucidate this degradation process. Optimal results were obtained at 400 °C for 30 min. This low temperature sintering of GZO fibers has not been previously reported. The fibers were porous with a significant surface area, making it possible to test their sensitivity to environmental changes. In particular, the response of the GZO NFs to changes in humidity was demonstrated for the first time. The electrical and sensing properties of single NFs prepared at these conditions were studied using a field-effect transistor mode.
---