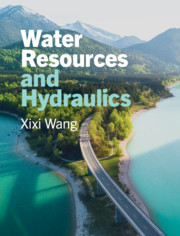 Coming soon

Expected online publication date:

November 2020

Print publication:

30 November 2020

This exciting new textbook introduces the concepts and tools essential for upper-level undergraduate study in water resources and hydraulics. Tailored specifically to fit the length of a typical one-semester course, it will prove a valuable resource to students in civil engineering, water resources engineering, and environmental engineering. It will also serve as a reference textbook for researchers, practicing water engineers, consultants, and managers. The book facilitates students' understanding of both hydrologic analysis and hydraulic design. Example problems are carefully selected and solved clearly in a step-by-step manner, allowing students to follow along and gain mastery of relevant principles and concepts. These examples are comparable in terms of difficulty level and content with the end-of-chapter student exercises, so students will become well equipped to handle relevant problems on their own. Physical phenomena are visualized in engaging photos, annotated equations, graphical illustrations, flowcharts, videos, and tables.
---
Journal: Journal of Dairy Research / Volume 82 / Issue 1 / February 2015
Published online by Cambridge University Press:

16 January 2015

, pp. 29-35

Print publication:

February 2015

The bioavailability of dietary ionised calcium is affected by intestinal basic environment. Calcium-binding peptides can form complexes with calcium to improve its absorption and bioavailability. The aim of this study was focused on isolation and characterisation of a calcium-binding peptide from whey protein hydrolysates. Whey protein was hydrolysed using Flavourzyme and Protamex with substrate to enzyme ratio of 25 : 1 (w/w) at 49 °C for 7 h. The calcium-binding peptide was isolated by DEAE anion-exchange chromatography, Sephadex G-25 gel filtration and reversed phase high-performance liquid chromatography (RP-HPLC). A purified peptide of molecular mass 204 Da with strong calcium binding ability was identified on chromatography/electrospray ionisation (LC/ESI) tandem mass spectrum to be Glu-Gly (EG) after analysis and alignment in database. The calcium binding capacity of EG reached 67·81 μg/mg, and the amount increased by 95% compared with whey protein hydrolysate complex. The UV and infrared spectrometer analysis demonstrated that the principal sites of calcium-binding corresponded to the carboxyl groups and carbonyl groups of glutamic acid. In addition, the amino group and peptide amino are also the related groups in the interaction between EG and calcium ion. Meanwhile, the sequestered calcium percentage experiment has proved that EG-Ca is significantly more stable than CaCl2 in human gastrointestinal tract in vitro. The findings suggest that the purified dipeptide has the potential to be used as ion-binding ingredient in dietary supplements.
---