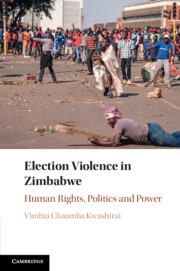 Human Rights, Politics and Power

Coming soon

Expected online publication date:

December 2022

Print publication:

31 December 2022

The ramifications of election violence in Zimbabwe are huge and ongoing, and the loss of lives in the quest for democratic rights might be regarded as the foremost tragedy of post-colonial Zimbabwe. In this book, Vimbai Chaumba Kwashirai examines the prevalence of electoral violence in Zimbabwe from the early 1980s to the present day. With a range of rich examples, Kwashirai offers a nuanced analysis of the overt and covert forms of violence that have pervaded the country's general elections. While remaining attentive to the specifics of the Zimbabwean political landscape, Kwashirai addresses broader debates in African politics, and shows how insidious violence, ethnic tensions and the weakness of opposition parties serve to undermine democracy across Africa. Adopting an interdisciplinary approach, he explores the various ways in which violence can be understood and, crucially, how it might be prevented.
---